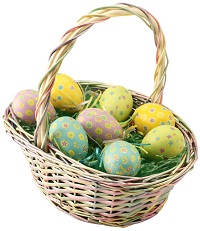 Looking for a local Easter egg hunt for your children? Or an Easter parage, Easter brunch or breakfast or other Easter events in Orange County, California? Scroll down this page and you will see all of thoses in Orange County, California, sorted by county. ALWAYS call before you go to confirm the info, they don't always report changes to me!
If you know of one we missed and want to add it or correct the information, please let me know!
Updates for February 2019
February: Easter Sunday will be April 21, 2019, If you plan to hold an Easter egg hunt, add or update your information as soon as you can. In 2018 most Easter egg hunts were held on either Saturday, March 24, 2018 or Saturday, March 31, 2018. ALWAYS click the links to check date and time with the event's own website, as there are often last minute changes due to weather or logistical problems, just click on the link to the event's website and (in most cases), you want to click on the "events" link or "calendar" link on their website. Or use their site search for "Easter". Do let them know you found them here, so they will update us next year. Since many egg hunts do not publish the current year's dates until the very last minute, we may not get their current information, which is why we have links to their websites, facebook pages and calendars. See their events calendar. There are also Easter breakfasts and brunches and Easter parades to watch!
RELATED:
You may also want to
go to a local farm to
Pick Your Own fruit and vegetables
; strawberries start very soon in most areas!
And if you are looking for local
children's consignment sales, also often held by churches in the Spring and Fall, click here
!
Easter Egg Hunt, Parade and Event Listings
Click on Resources above, if you need a county map
Orange County
Buena Park Spring Eggstravaganza - Easter Egg Hunt
Henry Boisseranc Park, 7520 Dale Street, Buena Park, CA . Phone: (714) 562-3860. Event date and time: Saturday, March 31, 2018 at 8 am. Pancake Breakfast starts at 8:00 a.m. Activities begin at 9:00 a.m. Egg Hunt for kids 12 yrs. and under at 12noon! Come be a part of the "Egg-citement" this spring at Buena Park's very special Spring Eggstravaganza! Activities include stage entertainment, children's crafts, field games, a petting zoo, moonbounces, visits with the Spring Bunny, and of course, the candy scramble for children 12 years of age and younger. Parents: Don't cook breakfast! Come early and join us for a special Pancake Breakfast starting at 8:00 am sponsored by the Buena Park Noon Lions.
Corpus Christi Catholic Christian Community Easter Egg Hunt Eggs - Easter egg hunt
27231 Aliso Viejo Parkway, Aliso Viejo, Ca 92656. Phone: (949) 389-9008. Email: info@avcatholics.org. Event date and time: Easter Sunday, April 1, 2018 after each service at 8:00 AM, 10am, & 12 (NOON);There will be an Easter Egg Hunt AFTER each Mass on Easter Sunday on the parish lawn. Easter Sunday Mass times are 8:00 AM, 10:00 AM, & 12 (NOON).. All children are welcome to participate!
Remember the Easter Egg Hunts will begin AFTER the conclusion of each Mass.
Irvine Park Railroad Easter Eggstravaganza - Easter egg hunt, meet the bunny, moon bounce, train rides, hay rides, and a lot more fun for the entire family to enjoy.
Irvine Park Railroad, 1 Irvine Park Road, Orange, CA 92869. Phone: (714) 997-3968. Email:click here for our contact form. Event date and time: Daily, Saturday, March 10th through Saturday, March 31st, 2018. Directions: click here. Centrally-located in Orange County. Visit our coupon page for Easter Eggstravaganza, bike rental, OC Zoo, and other coupons. Note: Irvine Regional Park and Irvine Park Railroad will be open on Easter Sunday, however, the Easter Eggstravaganza events will not be open on Easter Sunday. This event is held inside of Locomotive Loop… just behind the train station.This exciting Easter egg hunt will include eggs filled with candy, stickers, free train tickets, and more! Children will be separated by age group for each Easter egg hunt. Each Easter egg hunt will be limited to a certain number of children so that all children can find Easter eggs. Children may bring their own Easter basket or Irvine Park Railroad will offer Easter baskets available for purchase. Plan to arrive early for this popular event. Please note that posted hours are subject to change without notice due to breaks, weather or other unforseen circumstances. To view pictures of last year's Easter Eggstravaganza, visit our Irvine Park Railroad Photo Gallery. Children can download and color an Easter coloring page.
La Habra Spring Family Eggstravaganza- helicopter Easter egg drop, Easter egg hunt,
La Bonita Park, 1441 W. Whittier Blvd, La Habra, CA. Phone: (562) 383-4200. Event date and time: Saturday, March 31, 2018 from 8 am to 12 pm. The Spring Family Eggstravaganza is an annual City event that takes place the Saturday before Easter Sunday. It includes a helicopter egg drop and egg hunts divided into age-appropriate time slots. It also includes a resource fair put on by the Friends of Family Health Center, which offers information on health-related family issues and available social services, as well as raffles. There are also a variety of vendors at the event. This year's Eggstravaganza will be held, at the softball fields at La Bonita Park, 1440 W. Whittier Blvd. Activities will include an Eggs-Treme Kid Zone, with games, crafts, inflatables, balloon twisters, live DJ and more. To add to the excitement, eggs for the egg hunt will be dropped by a helicopter! Egg hunts will be held for specific age groups at the following times: 9:15 a.m.: 0-2 & 3-4 year olds, 9:35 a.m.: 5-6 year olds, 9:50 a.m.: 7-8 year olds, 10:05 a.m. 9-10 & 11-12 year olds, 10:20 a.m.: teens & adults. New this year -- there is a $2 per person fee to participate in the egg hunt. Pre-sale wristbands will be available for purchase e at the Community Center prior to the event, as well as at the event.
As in the past, the La Habra Family Resource Center's Community Resource Fair will be part of the Eggstravaganza, and there will be 30-plus organizations participating. Visitors to the Fair will be able to participate in family activities, gather information, enter into the raffle for prizes and much more. For more information about the Eggstravaganza, please contact the Community Services Department at (562) 383-4200.
Mariner's Church, Irvine, CA Easter Egg Scramble - Easter egg hunt
Mariners Church, 5001 Newport Coast Drive, Irvine, CA. Phone: (949) 769-8100. Email: smay@marinerschurch.org. Event date and time: Saturday, March 31, 2018. Free , ages 1 - 10 years. Click here for directions. Come and enjoy our Easter Egg Scramble! Everyone is invited to this free, community event with face painting, Easter Eggs, *food trucks, photo booths, and more! Also, be sure to join us us for our Easter Services (see times below) right after our Egg Scrambles.
Easter Scrambles & Pancake Breakfast:
Saturday,: First Egg Scramble & Easter Activities are from 2:30p-4p. Second Egg Scramble and Easter Activities are from 7p-8p
Easter Sunday, Pancake Breakfast from 6:30a-8a.
Easter Services:
Saturday, March 31: 4p & 6p
Sunday, April 1: 8a, 9:30a, 11:30a, 1:30p
Questions? Email Stephanie: above.
Oak Canyon Nature Center Spring Fling - Easter egg hunt
Oak Canyon Nature Center, 6700 E. Walnut Canyon Road, Anaheim, CA 92807. Phone: (714) 765-5191. Event date and time: Saturday, March 31, 2018 from 10 am to 2 pm. For Children ages 3-11 are invited to join us on Saturday, March 31st for an exciting day filled with spring activities and eco friendly fun!. Please register by contacting the Community Services Department at (714) 765-5191. Check in any time from 10-11am and enjoy activities until 2pm! Activities will include an 'Egg'cellent Egg Hunt, crafts, games, face painting, and a visit from Mr. Bunny himself, who will be taking pictures all day! Don't miss this 'hopping' good time! Children are asked to bring their own basket or container for the egg hunt. Please note that artificial grass is not allowed on the Oak Canyon Nature Center grounds.
Orange County Easter Egg Hunt - Easter egg hunt
Brea Junior High School Park, 400 North Brea Boulevard, Brea, CA 92821. Event date and time: Easter Sunday, April 1, 2018 from 9:30 am to 12:30 pm. (Check-in opens at 9:00 a.m.) The Biggest Easter Egg Hunt in North Orange County! This exciting Easter Egg Hunt will include over 20,000 eggs, NEW COLOR SPLASH RALLY, carnival game booths, relays, prizes, arts & crafts, and face painting! And now we added another special Evening Egg Hunt for the Older folks - Millenials, High School, & Jr. High School Students the Night Before, on March 31st with $1000 in prizes. This Year's Eggstravaganza is even better with our All New Color Splash Rally. Much like a Color Run, the kids and parents will have the option to be in our Color Splash Zone. During our morning rally, you will be sprayed with a beautiful array of color dust for some cool photo ops. If you plan on participating, please come in recommended white clothing and goggles or eyewear. It is going to be a blast, literally.
EVERY PARTICIPANT MUST REGISTER & SIGN A WAIVER. They will recieve a Wristband when they Check-In. Family Easter Egg Hunt on Sunday, April 1st, at our Easter Egg-Stravaganza from 9:30 am - 12:30 pm.
Register Here for Family Easter Egg Hunt (ages 0 - 11)
We also have events for:
High School Students happening right after at 6:00 P.M.Register Here for High School Students
Millennials Scavenger Hunt at 8:00 P.M Register Here for Millennials Scavenger Hunt
Trinity United Presbyterian Church - Easter Egg Hunt
13922 Prospect Avenue, Santa Ana, California 92705. Phone: (714) 544-7850. Email: kris@tupcsa.org. Event date and time: Saturday, March 24, 2018 from 9:30-11am. For children ages 2 years through 2nd grade and their families. Music, goodies, crafts, games, story time and fun with friends. FREE!
Contact
Caroline Elias
Phone: 714-505-6254 x111
Email: caroline@tupcsa.org.