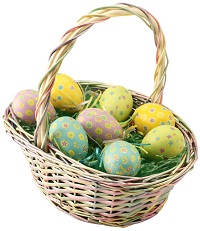 Looking for a local Easter egg hunt for your children? Or an Easter parage, Easter brunch or breakfast or other Easter events in Atlanta area and surrounding counties in Georgia? Scroll down this page and you will see all of thoses in Atlanta area and surrounding counties in Georgia, sorted by county. ALWAYS call before you go to confirm the info, they don't always report changes to me!
If you know of one we missed and want to add it or correct the information, please let me know!
Updates for January 2018
January: Easter Sunday will April 1, 2018, so in 2018 most Easter egg hunts will be held on Saturday March 24, 2018 and some on Saturday March 31, 2018. ALWAYS click the links to check date and time with the event's own website, as there are often last minute changes due to weather or logistical problems, just click on the link to the event's website and (in most cases), you want to click on the "events" link or "calendar" link on their website. Or use their site search for "Easter". Do let them know you found them here, so they will update us next year. Since many egg hunts do not publish the current year's dates until the very last minute, we may not get their current information, which is why we have links to their websites, facebook pages and calendars. See their events calendar. There are also Easter breakfasts and brunches and Easter parades to watch!
And if you are looking for local
children's consignment sales, also often held by churches, click here
!
Click on Resources above, if you need a county map
Below is the comprehensive list of this year's Atlanta area Easter Egg hunts. And unlike the Atlanta Journal Consitution's (AJC) list (which you must pay for and is only updated once a year) this list is free and updated frequently in the days and weeks leading up to Easter!
Inside the Perimeter (I-285) / Atlanta)
Atlanta History Center Magic Monday: Egg Hunt on the Farm - Easter egg hunt
130 West Paces Ferry Road NW, Atlanta, GA 30305. Phone: 404-814-4110. Event date and time: Monday, April 10, 2017 from 10AM to 1PM; the museum is open 10:00 AM – 5:30 PM; Gardens & Grounds close at 5:15 PM. Toddlers and preschoolers celebrate springtime on the farm during our annual egg hunt. Join the search for colorful eggs hidden throughout Smith Family Farm to win prizes. Participate in fun and games like the peep toss, doing the bunny hop, and creating spring crafts. Hop on by and visit the Easter Bunny! Each Magic Monday has a unique monthly theme and includes a guided exploration of one of our award-winning exhibitions, historic houses, or Goizueta Gardens, as well as demonstrations, arts and crafts projects, and story time. Members are admitted for free. Admission is $6.50 adults; $5.50 children. Discounted rates are available for groups with ten or more children. Note: Chick-fil-A in the Coca-Cola Cafe permanently closed December 20, 2015. Please be sure to bring a picnic lunch or view our local dining suggestions. Support: Funding for this program is provided by the Fulton County Board of Commissioners under the guidance of Fulton County Arts Council. (UPDATED: March 27, 2017, JBS) (ADDED: March 07, 2016, JBS)
Atlanta Governor's Annual Easter Egg Hunt - Easter egg hunt
Governor's Mansion, 391 West Paces Ferry Rd NW, Atlanta, Georgia 30305. Phone: 404-656-1776. Email: mansionevents@georgia.gov. Event date and time: See their website for the 2018 date from 10:00 am to 12:00 pm. Call to RSVP in advance (required) . Activities will include a moonwalk provided by Jumpy Fun, Easter Bunny Photos, a Cupcake Decorating Station, Face Painting, a Storybook Station featuring Clifford the Big Red Dog, an Easter Egg Roll, an Easter Egg Decorating Station, and of course, an Easter Egg Hunt! Children are asked to provide their own Easter baskets to collect souvenirs. Storybooks provided by Scholastic and the Pearson Foundation will be given to each family until supplies run out. Easter gift baskets provided by GourmetGiftBaskets.com will also be given away to those lucky enough to find "Prize Eggs." Reservations are extremely limited and can only be taken by e-mail on March 1st at exactly 8:00 a.m. Please email to reserve your spot for the 2016 Governor's Mansion Easter Egg Hunt. Unfortunately, early reservations cannot be accepted. When making your reservation, please include the following:
Names of the adults who would like to attend
Names and ages of the children
Telephone number
Email address (UPDATED: March 06, 2016, JBS) (UPDATED: February 04, 2015, from their website)
Avondale Estates Easter Egg Hunt - Easter egg hunt, and a Dog Easter Costume Parade
Willis Park, 51 Dartmouth Avenue, Avondale Estates, GA 30002. Phone: 404-294-5400. Event date and time: April 15, 2017 from 10 am to 1 pm. NOTE: The AJC is reporting thatthe address for the egg hunt is Lake Avondale, 59 Lakeshore Drive, Avondale Estates but the event's own website has the Willis Park address, which is likely for the dog parade, so be sure to call them to confirm! Children up to 10 years old are welcome to participate in the Easter Egg Hunt, which starts promptly at 10 a.m. Come early; this event is over quickly! The hunt area is divided into four sections based on age: 2 and under, 3-4 years, 5-7 years, and 8-10 years. Eggs are filled with toys and candy, and three eggs in each age category denote "winners" who will receive special prizes. The Easter Bunny will also make an appearance! Dog Parade - Did you ever think your dog might love a parade? If so, bring your furry canine friend to the Avondale Estates Annual Dog Parade, happening after the Easter Egg Hunt. Cost - The event is free and costumes are not required to participate.
Dog Parade Awards
Award categories include:
Best Behaved
Best Costume
Best Owner/Dog Duo
Most Spirited/Enthusiastic
Registration Check in/register onsite from 9:30 to 10:15 a.m. The first 50 registered dog participants to check-in receive a free bag of goodies. For more information, review the guidelines and the registration form (PDF). (ADDED: March 27, 2017, JBS)
1027 Church Easter Egg Hunt - Easter egg hunts for children, Easter egg hunts for infant, Easter egg hunts for toddlers, The Easter bunny will make an appearance, Visits and photos with the Easter Rabbit, FREE admission, Bring a basket to collect the eggs!,
774 Virginia Avenue Sports Field at Virginia Ave & Green Cove Ave, Atlanta, GA 30306. Phone: 678-618-4006. Email: Info@1027church.com. Event date and time: Saturday, April 15, 2017, from 9am to 10am. Directions: Click here for a map and directions. Payment: Cash, only. Come join us on for our free Community Easter Egg Hunt. Get there early for a chance to have your face painted! (This hunt is for all kids ages 10 and under.) The hunt will be at the sports field at Inman Middle School located the intersection of Virginia Avenue and Green Cove Avenue in Atlanta, GA. The Easter Bunny will be there and happy to pose for pictures! (UPDATED: March 28, 2017, JBS) (UPDATED: March 06, 2016, JBS) (UPDATED: April 3, 2015, JBS) (ADDED: March 16, 2014)
Callanwolde Giant Egg Hunt - Easter egg hunt
Park at Emory University Briarcliff Campus, 1256 Briarcliff Road, Atlanta, GA. Phone: 404-872-5338. Event date and time: Saturday, April 15, 2017, from 9:00 am until 1 pm. Easter EGG HUNT: Eggstravaganza hops into Callanwolde! A family favorite for years, Callanwolde's Easter egg hunt Eggstravaganza features thousands of candy-filled eggs to find (including three golden "prize" eggs), and a chance to meet the Easter Bunny. There will be baked goods for sale, a "cake walk", face painting, carnival games, and spring-themed arts and crafts for kids. Bring your basket and your camera…. All proceeds benefit the Callanwolde Dance Program. Save time and buy tickets online at TicketLeap.com. Admission will be $4 online, or $8 at the door for children and adults. Admission to Callanwolde's special events are always half off for members!. In case of rain the event will be cancelled. No onsite parking available. Arrive early for free parking and shuttle bus service beginning at 9:30 am. Parking is located across the street at Atlanta Metro Cathedral (999 Briarcliff Rd NE, Atlanta, GA 30306) and at Emory Briarcliff Property's Parking Lot A (1256 Briarcliff Road NE, Atlanta GA 30306). Shuttle service will be available to and from the Emory Briarcliff Parking Lot. Easter EGG HUNT: "EGGSTRAVAGANZA. (UPDATED: March 27, 2017, JBS) (UPDATED: March 06, 2016, JBS) (UPDATED: February 04, 2015, JBS-web) (UPDATED: March 19, 2014, from their website)
Decatur Community Achievement Center's Easter Egg Eggstravaganza - Easter egg hunt
Community Achievement Center, 4522 Flat Shoals Pkwy., Decatur, GA 30034. Phone: (770) 330-3872. Event date and time: Based on last year's date, it SHOULD be held on Saturday, April 15, 2017 (but be sure to check on their website or call them first as we haven't yet received an update from them) from 1:00pm to 3:00pm. The Community Achievement Center, Inc. presents its Annual Easter Egg Hunt Eggstravaganza. Join us at Flat Shoals Park for our annual Easter Egg Hung Eggstravaganza! It's free. There will be vendors available for Face Painting, Games, Kona Ice and you can take pictures with the Easter Bunny!!! This is event is for children between the ages of 4 and 10. Admission is free. Children must be accompanied by an adult, and arrive with their own Easter baskets. (UPDATED: March 06, 2016, JBS) (UPDATED: March 22, 2015, JBS) (ADDED: March 19, 2014, from their website)
Decatur Easter Egg Hunt - Easter egg hunt
Decatur First Baptist Church, 308 Clairemont Avenue, Decatur, GA. Admission: free. Phone: 404-371-8386. Event date and time: Saturday, April 8, 2017, from 10:30am – 11:30am. For children from babies through 5th grade. On the front lawn of First Baptist Church Decatur. Hop on over to the front lawn at Clairemont and Commerce in Decatur. The DBA Decatur Easter Parade and Easter bunny arrive at the front lawn at 10:30 a.m. and the Easter egg hunt begins at 11 a.m. The hunt will be age graded this year. Be sure to arrive on time because the Easter bunny waits for no one! Little Shop of Stories, Treehouse Kid & Craft and City of Decatur mini fire truck will provide activities. Bring a blanket and enjoy a picnic style lunch on the lawn. Food will be available for purchase and includes hot dogs, hamburgers, and empanadas. Age categories: 0-2; preschool; kindergarten; grades 1-5. Free. (UPDATED: March 28, 2017, JBS) (UPDATED: March 06, 2016, JBS) (UPDATED: March 20, 2015, JBS) (UPDATED: March 19, 2014, from their website)
Fernbank Museum Spring EGG-stravaganza - Easter egg hunt
Fernbank Museum of Natural History, 767 Clifton Road NE, Atlanta, GA 30307. Phone: 404-929-6400. Event date and time: Saturday, April 8, 2017, from 10 am to 2pm. This festive annual event is the perfect way for families to welcome spring with opportunities to meet live baby animals, find prize-filled eggs, play fun games, participate in special activities and more. Scheduled Activities include Sam's Path Petting Zoo** , Meet baby animals including ducklings, baby goats and more. (Ages four and up are welcome to touch the animals with parental supervision. Hand sanitizer should be used after touching the animals.), Georgia Bubbleman, Egg Stations*** Explore activities in the Great Hall to collect your treat-filled eggs. Keep an eye out for other surprise egg giveaways. Egg Basket Craft - Color a paper bag basket to tote prize-filled eggs. Get a spring-themed temporary tattoo. Meet our dinosaur mascot, Giggy, who is celebrating by wearing bunny ears. (Please note Giggy will require breaks throughout the event.). Enjoy a tasty GoGo squeeZ applesauce or yogurt while you collect your treat-filled eggs. Tadpole Tales 11:30am, Naturalist Center Preschoolers will enjoy a story with a Fernbank educator along with a special activity or song. The featured story, Guess What is Growing Inside this Egg, by Mia Posada, will bounce you into spring. *Activities are from 10am – 2pm in the Great Hall unless otherwise noted and are subject to change without notice. **Animal species subject to change. ***Egg giveaways available while supplies last. Eggs are limited to one per station, per child. Please note that eggs contain candy and/or toys with small parts. Use parental supervision. Candy should not be consumed in exhibits, WildWoods or Fernbank Forest. ****Available while supplies last. Popsicles are for purchase and not included with admission. Cost: Included with Museum admission and free for members.. Get your tickets online today! (UPDATED: March 28, 2017, JBS) (UPDATED: March 06, 2016, JBS) (UPDATED: March 20, 2015, JBS) (UPDATED: March 19, 2014, from their website) (UPDATED: March 29, 2013)
Lutheran Church of the Messiah's Annual Easter Egg Hunt - Easter egg hunts for children, Easter egg hunts for infant, Easter egg hunts for toddlers, Held indoors in bad weather, FREE admission, Children's crafts, Children's music, Vendors, Bring a basket to collect the eggs!, Baskets are provided, concessions / refreshment stand, restrooms, face painting
465 Clairemont Avenue, Decatur, GA 30030. Phone: 404-373-1682. Email: office@messiahdecatur.org. Event date and time: Saturday, April 15, 2017, from 10am to 1pm. Directions: Click here for a map and directions. There is a special area for 7 year olds and younger. Click here for our Facebook page. We will also have a Silent Auction and Cake Walk. (UPDATED: February 28, 2017) (UPDATED: March 09, 2016) (UPDATED: March 09, 2016, JBS) (UPDATED: March 28, 2015) (UPDATED: March 19, 2015) (ADDED: April 18, 2014)
Mason Mill Park Community Easter Egg Hunt - Easter egg hunts for children, Easter egg hunts for infant, Easter egg hunts for toddlers, The Easter bunny will make an appearance, Visits and photos with the Easter Rabbit, FREE admission, Children's crafts, Bring a basket to collect the eggs!, restrooms, picnic area, face painting
1340 Mcconnell Drive, Atlanta, GA 30033. Phone: 678-873-1516. Email: darren@1027church.com. Event date and time: March 26 10:30 am to 11:30am. Directions: Click here for a map and directions. Payment: Free - no payments needed for anything. Ages 10 and under please. (ADDED: March 09, 2016)
Mount Paran Church EggFest at the Lovett School - Easter egg hunt
4075 Paces Ferry Road, N.W. Atlanta, GA 30327-3009. Phone: 404-923-8700. Email: info@mountparan.com. Event date and time: Saturday, April 15, 2017 from 10:00 am to 1:00 pm. Families are invited to come out for our annual Easter Eggfest. We'll have bounce houses, inflatable games, and food! Our Easter Egg hunt will be divided into 3 age groups from nursery to 6th grade with over 25,000 eggs. Activities for the whole family! Free Admission. Pony Rides, Egghunts for all ages, Bounce Houses, Toddler Play Area,, Picnic Area, Prizes & Giveaways, Food available for purchase. Kickball tournaments for middle and high schoolers. Egg Hunt Schedule (times and categories subject to change):
1st hunt: Toddlers – Pre-K @ 10:30am * Parents, Make Kodak moments and please leave the egg hunting to the professionals.
2nd hunt: Kindergarten – 3rd grade @ 11:00am
3rd hunt: 4th grade – 6th grade @ 11:30am
Kickball: Middle School and High School at Noon. At the end of each egg hunt, please clear the field. Eggs must be reseeded for the next hunt. Random eggs have prize tickets AND GOLD COINS. Prize tickets and GOLD COINS can be redeemed at the prize Redemption area. (UPDATED: March 20, 2015, JBS) (UPDATED: March 19, 2014, from their website) (ADDED: March 19, 2013, from their website)
Northside Drive Baptist Church Easter Egg Hunt - Easter egg hunt
3100 Northside Drive, Buckhead, Atlanta, GA. Phone: 404-237-8621. Event date and time: Easter Sundayat 12:15 pm. Easter Egg Hunt on the church grounds. The children of the church and in the community eagerly anticipate the Easter Egg Hunt every year. Please donate 1-2 dozen stuffed plastic eggs for the event (no peanut products please). You may drop off the eggs at the church office during the week or in the Children's Sunday School room every Sunday until Easter. On the church grounds. (map

)

(UPDATED: March 28, 2017, JBS) (UPDATED: March 06, 2016, JBS) (UPDATED: March 20, 2015, JBS) (UPDATED: March 19, 2014, from their website) (UPDATED: March 04, 2013, from their website)
Peachtree Presbyterian Easter Egg Hunt - Easter egg hunt
Chastain Park, at Chastain Park Playground, Atlanta, GA. Phone: 404-842-5800. Event date and time: Saturday, April 15, 2017, from 10:00 am to 12 pm. Join Us For Our Annual Easter Egg Hunt! We will meet at the Chastain Park playground. The Egg Hunt is fast so don't be late! Ages 2 and under start at 10:30 am. Ages 3-5 start at 10:45 am. Ages 6 and up start at 11:00 am. A Chick-fil-A lunch will be available. No charge for the hunt. $5 donation per meal. Invite your friends and their kids to join you for a fun time playing on the playground and hunting eggs. Then invite those friends to church on Easter Sunday! (UPDATED: March 28, 2017, JBS) (UPDATED: March 06, 2016, JBS) (UPDATED: March 20, 2015, JBS) (UPDATED: March 19, 2014, from their website)
Peachtree Road United Methodist Church Easter Egg-stravaganza - Easter egg hunt
Hill's Residence, 3180 Peachtree Road, Buckhead, Atlanta, GA. Phone: 404-240-8271. Email: lauries@prumc.org. Event date and time: Saturday, April 15, 2017, from 9 am to 12 pm at Hill's Residence. Easter Egg Hunt at the Hill's House, location: Off Campus. Come join the fun eggstravaganza celebration! Egg hunts, pony rides, astro jumps and a special appearance by the Easter Bunny! If it rains, the hunt will be held in Grace Hall. (UPDATED: March 28, 2017, JBS) (UPDATED: March 06, 2016, JBS) (UPDATED: March 20, 2015, JBS) (UPDATED: March 19, 2014, from their website)
Rehoboth Baptist Church Eggstravaganza -

Easter egg hunt


2997 Lawrenceville Hwy, Tucker, GA 30084. Phone: 678-939-3182. Email: scarter@rehoboth.org. Event date and time: Saturday, April 8, 2017, from 10am to 12 noon. Rehoboth's Eggstravaganza is a FREE event for children 5th grade and younger. Plan to arrive at 10AM on Saturday, April 8, for a morning full of fun! There will be over 10,000 eggs and some great indoor and outdoor activities! Train Ride, Bounce House, Door Prizes, Games, Cake Walk, Ice Cream Parlor, Face Painting, Toddler Area, Age-graded egg hunts. Eggstravaganza 2017 Schedule: Doors open at 10AM, then at 11:30AM: Door Prizes announced (Must be present to win.). At 11:45AM: Egg Hunt for all ages will be held on the large ball field at the back of the parking lot. There will be separate areas for ages 2-3yo, 4-6yo, and 7-11yo. Other helpful information: The bounce house, train ride, and egg hunts will be outdoors. All other activities will be inside the gym. All Eggstravaganza activities will be open from 10:00AM to noon. All activities are free of charge. *Some events are subject to change should the weather conditions be unfavorable.. (UPDATED: March 28, 2017, JBS) (UPDATED: March 06, 2016, JBS) (UPDATED: March 20, 2015, JBS) (UPDATED: March 25, 2014) (ADDED: March 05, 2012, suggested by a visitor) (UPDATED: March 04, 2013, by JBS)
A visitor writes on March 05, 2012: "We drove across town to go to this. Not sure what to expect....This is an AMAZING EVENT! Very lucky to have found out about it. Church sits right on 285 and Lawrenceville Hwy. Plenty of parking and stroller friendly. All of our kids left with bags( Baskets) full of eggs and prizes. The restrooms were inside and Clean. They had no lines for anything except the pony rides and face paint. Even those lines were not long. The church members were so nice and good with the kids. Our kids had a BLAST!! "
Sardis UMC Easter Egg hunt- Easter egg hunt
Sardis United Methodist Church, 3725 Powers Ferry Road, Buckhead, Atlanta, GA. Phone: 404-327-6060. Alternate phone: 404-314-4757. Email: paiken@msn.com. Event date and time: Based on last year's date, it SHOULD be held on Saturday, April 15, 2017 (but be sure to check on their website or call them first as we haven't yet received an update from them) from 2 pm to 4 pm, on the lawn. The hunt is for children ages 10 and younger. Please bring your family and join us for a fun-filled afternoon. Egg hunt, crafts, prizes, refreshments, and an appearence by the Easter bunny! (UPDATED: March 06, 2016, JBS) (UPDATED: March 20, 2015, JBS) (UPDATED: March 19, 2014, from their website)
Trinity Presbyterian Egg Hunt - Easter Family Breakfast and Egg Hunt for Younger Children
Williams Hall, Trinity Presbyterian Church, Atlanta, GA. Phone: 404-237-6491. Email: nireland@trinityatlanta.org. Event date and time: Easter Family Breakfast and Egg Hunt for Younger Children (Newborn - 1st grade): Saturday, April 8, 2017 9:00am, Williams Hall. Cost: $7 per adult, $5 per child, $24 family maximum for breakfast and activities. Cost for attending the egg hunt only is $4. During this time our youngest children gather with their families for a hardy breakfast, the Biblical story of Easter as told through song and video, then romp down the front lawn of the church to gather goody-filled eggs! Please RSVP by Monday, March 30th, by clicking here. There will also be a Easter Fun Night and Flashlight Egg Hunt for Older Children (2nd - 5th grade): Friday, April 3, 2015, at 6:30pm, Williams Hall. Cost: $7 per person. Older children enjoy the excitement of joining with friends for dinner, Easter activities, games and then an flashlight egg hunt on the front lawn of the church. Children typically come without families for this even, though all are welcome! Please RSVP by Monday, March 30th, by clicking here. (UPDATED: March 28, 2017, JBS) (UPDATED: March 20, 2015, JBS)
Vinings Historic egg hunt - Easter egg hunt
Vinings Historical Society, Old Pavilion, 3057 Paces Mill Road, Vinings, GA. Phone: 770-423-3343. Email: vhps1874@bellsouth.net. Event date and time: Date not yet confirmed for - - call them - MUST RSVP. Egg hunt, stories, games.
Wieuca Road Baptist Church Easter Egg Hunt - Easter egg hunt
3626 Peachtree Rd. NE, Atlanta, GA 30326. Phone: 404-814-4467. Email: jmills@wieuca.org. Event date and time: Saturday, April 15, 2017, from 10 am to 12:00 pm. Free. Wieuca Road Baptist Church invites you and your family to our annual Easter Egg Hunt on the playfield at Wieuca Road Baptist Church. In addition to all those hidden eggs, we'll have pony rides, face painting, and a petting zoo. You can also check out the giant slide, moonwalk, and obstacle course. 104.7. North Georgia Easter Egg Hunt. Our annual Easter Egg Hunt for the community. (UPDATED: March 28, 2017, JBS) (UPDATED: March 06, 2016, JBS) (UPDATED: March 20, 2015, JBS) (UPDATED: March 19, 2014, from their website)
Banks County
Barrow County
Bartow County
Butts County
Carroll County
Grace Covenant Church - Easter egg hunts for children, Easter egg hunts for infant, Easter egg hunts for toddlers, Held indoors in bad weather, FREE admission, Other activities for children, Bring a basket to collect the eggs!, concessions / refreshment stand, restrooms, face painting, inflatables/bounce house
1147 Rome Street, Carrollton, GA 30117. Phone: 770-896-0319. Email: jeanette.moss@bellsouth.net. Event date and time: Based on last year's date, it SHOULD be held on Saturday, April 8, 2017 (but be sure to check on their website or call them first as we haven't yet received an update from them); Saturday from 10 am to 12 pm. Directions: Click here for a map and directions. Payment: Free - no payments needed for anything. Click here for our Facebook page. Ages from Infant to 13 years old. (UPDATED: January 28, 2016) (ADDED: February 15, 2015)
Cherokee County
Clarke County
Memorial Park Breakfast with the Bunny - Easter egg hunt, breakfast with the Bunny
Memorial Park, 293 Gran Ellen Dr., Athens, GA 30606. Phone: 706-613-3580. Event date and time: Saturday, April 15, 2017 at 9:00-9:45 am OR 10:00-10:45 am. The Athens-Clarke County Leisure Services Department will host the annual "Breakfast with the Bunny" in the Park's recreation hall. This family event includes breakfast, crafts, and a photo with the Easter Bunny. Two time slots are available: 9:00 – 9:45 a.m. or 10 – 10:45 a.m. The fee is $5 per person for ACC residents and $8 for non-residents. Children ages 2 and younger are admitted free of charge. Online registration is underway by clicking on "March Events." Pre-registration is required by March 21. (UPDATED: March 29, 2017, JBS) (UPDATED: March 06, 2016, JBS) (UPDATED: March 20, 2015, JBS) (UPDATED: April 03, 2014, from their website) (ADDED: March 19, 2013, from their website)
East Athens Community Center - Easter egg hunt
East Athens Community Center, 400 McKinley Dr., Athens, GA 30601. Phone: 706- 613-3593. Event date and time: Saturday, April 8, 2017 at 10:00 am. The Athens-Clarke County Leisure Services Department will host an Easter Egg Hunt at the East Athens Community Center. This holiday program features a traditional Easter Egg Hunt with prizes. This event is for children, Kindergarten through 5th grade. For more information, please visit the Holiday Events page at Ages: 5 - 12. Fee: Free. (UPDATED: March 29, 2017, JBS) (UPDATED: March 06, 2016, JBS) (UPDATED: March 20, 2015, JBS) (UPDATED: April 03, 2014, from their website) (ADDED: March 19, 2013, from their website)
Lay Park Easter Egg-stravaganza Egg Hun - Easter egg hunt
Lay Park, 297 Hoyt St., Athens, GA 30601. Phone: 706-613-3596. Phone: 706-613-3593. Event date and time: Saturday, April 8, 2017 from 11:00 AM to 12:00 PM. Lay Park will host the "Easter Egg-stravaganza Egg Hunt" on Saturday, March 26 at 11 AM for toddlers through 5th Grade. Children must bring their own baskets. The program is free of charge and registration is not required. (UPDATED: March 29, 2017, JBS) (ADDED: March 06, 2016, JBS)
Rocksprings Park - Easter egg hunt
Rocksprings Community Center & Park, 291 Henderson Ext., Athens, GA 30606. Phone: 706-613-3602. Phone: 706- 613-3593. Event date and time: Saturday, April 15, 2017 from 9:30 AM . Fee: Free. Rocksprings Park will host an Easter Egg Hunt on Saturday, March 19 and begins 9 AM. This program, for toddlers to age 12, features a traditional egg hunt with prizes. The program is free of charge and registration is not required. (UPDATED: March 29, 2017, JBS) (ADDED: March 06, 2016, JBS))
Hip Hop Hooray Easter Egg Hunt - Easter egg hunt
Rocksprings Community Center & Park, 291 Henderson Ext., Athens, GA 30606. Phone: 706-613-3603. Event date and time: See their website or call for the date (this event was held in 2013, but I have not been able to find any information about this year) from 9:00 am to 11:30 am. Ages: 18 months - 11 years. Mr. Bunny has been busy hiding eggs and gathering special prizes for the prize egg giveaway. Children will make holiday-themed crafts, take photos with Mr. Bunny, and look for one of the coveted prize eggs with special prizes. Fee: $1 for photo. (UPDATED: March 20, 2015, JBS) (ADDED: March 19, 2013, from their website)
Clayton County
Riverdale Easter Egg Hunt Extravaganza - Easter egg hunt
The Riverdale Town Center, 7210 Church Street, Riverdale, GA. Phone: 770 909-5300. Email: RSVP@riverdalega.gov. Event date and time: Saturday, April 25, 2017 from 12 pm to 3 pm. Easter Eggstravaganza is free and aimed at children ages 2 to 10. Bring your own basket and take pictures with the Easter bunny. Activities will take place in front of City Hall. Riverdale's Annual Easter Egg Hunt; Come join the family fun including your favorite characters, face painting, the Easter Bunny and, of course, the Easter egg hunt! FREE. (UPDATED: March 29, 2017, JBS) (UPDATED: March 06, 2016, JBS) (UPDATED: March 20, 2015, JBS) (UPDATED: April 03, 2014, from their website) (UPDATED: March 19, 2013, from their website)
Cobb County
Acworth Easter Egg Hunt - Easter egg hunt
Acworth Sports Complex, 4000 South Main St., Acworth, GA 30101. Phone: 770-917-1234. Email kwatt@acworth.org. Event date and time: Friday April 7, 2017, starting promptly at 6:30 pm. The City of Acworth and Freedom Church would like to invite your family to experience an incredible event, the largest Egg Hunt in Acworth! We will have activities and concessions opening at 6:30 pm, the Easter Bunny will be arriving at 7:15 pm, and the first hunt begins at 7:30 p.m. Make sure you arrive early to enjoy face painting, balloon animals, and inflatables. You don't want to miss a minute of the action! The Easter Bunny will be making his grand entrance by PARACHUTING into this event! Immediately afterwards, the hunt for 50,000 eggs will begin. You won't want to miss out on the fun and excitement!. The hunt will be for all children through the 5th grade. The children will be divided into four age groups, see the chart at right. The hunts will take place on the football fields (North side of the Complex); all parking for the event will be available on the South side of the Complex where the baseball fields are located. (UPDATED: March 27, 2017, JBS) (UPDATED: March 06, 2016, JBS) (UPDATED: March 20, 2015, JBS) (UPDATED: April 03, 2014, from their website) (ADDED: April 15, 2011, suggested by a visitor)
Atlanta Chinese Catholic Association Egg Hunting - Easter egg hunts for children, Easter egg hunts for infant, Easter egg hunts for toddlers, Held indoors in bad weather, FREE admission, Other activities for children, Bring a basket to collect the eggs!, concessions / refreshment stand
All Saints Catholic Church 2443 Mount Vernon Road, Dunwoody, GA 30338. Phone: (770) 393-3255. Email: info@AtlantaChineseCatholic.org. Event date and time: Unknown if they are having it this year; I've received no update, and their website is only in Chinese, so good luck reading that. Directions: Click here for a map and directions. Payment: Click here for our Facebook page. (ADDED: April 18, 2014)
Cobb County Marietta Easter Egg Hunt - Easter egg hunt
1082 Al Bishop Dr., Marietta, GA. 30008. Phone: (770) 528-8875. Event date and time: Saturday, April 15, 2017, from 10 am to 2 pm. The Cobb County Easter Egg Hunt takes place at Al Bishop Softball Complex in Marietta. There will also be children's art activities, live entertainment, inflatables (for a fee), hula-hoop contest, tug-of-war contest, musical chairs, food vendors and more. Admission is Free; Parking is Free. (UPDATED: March 27, 2017, JBS) (UPDATED: March 06, 2016, JBS) (UPDATED: March 20, 2015, JBS) (UPDATED: April 03, 2014, from their website)
Eastside Baptist Church Easter Egg Hunt - Easter egg hunt
2450 Lower Roswell Road, Marietta, GA 30068. Phone: 770-971-2323. Email: jpeay@ebcnet.org. Event date and time: Saturday April 15, 2017 at 10:30 am to 1 pm. 2,000 screaming kids running/scrambling out onto a field that has 20.000 Easter eggs stuffed with prizes. There will music, inflatable games, face painting, food, and more. (UPDATED: March 29, 2017, JBS) (UPDATED: March 06, 2016, JBS) (UPDATED: March 20, 2015, JBS) (UPDATED: April 11, 2014, from their website) (UPDATED: March 29, 2013, from their website)
Kennesaw Smith-Gilbert Gardens Easter Egg Hunt - Easter egg hunt
Smith-Gilbert Gardens, 2382 Pine Mountain Rd, Kennesaw, GA 30152. Phone: (770) 422-9714. Email: lfleming@kennesaw-ga.gov. Event date and time: Saturday, April 15, 2017 from 10 am to 1 pm. Pre-Registration Only – Limited Number of Guests per Hunt. Mark your calendars, Smith-Gilbert Gardens is hosting their annual Easter Egg Hunt! The garden will be open during normal business hours (9am – 4pm) for general admission, but in order to participate in an Easter Egg Hunt you must pre-register for your hunt online at www.smithgilbertgardens.com . Unfortunately, due to limited availability and space, no walk up registrations will be accepted. Your entry fee includes garden admission, 1 Easter egg hunt, prizes, crafts, and a chance to meet the Easter Bunny. The price for non-member children is $10.00 and adult entry is $7.00. SGG Members enjoy a discounted rate and the opportunity to register early. Early registration for members will open on February 22nd. Non-member registration will open on March 1st. The Event is Rain or Shine. (UPDATED: March 29, 2017, JBS) (UPDATED: March 06, 2016, JBS)
Living Hope Church - Easter egg hunts for children, Easter egg hunts for infant, Easter egg hunts for toddlers, The Easter bunny will make an appearance, Breakfast (with the Easter bunny), Held indoors in bad weather, FREE admission, Children's crafts, Children's music and storytelling, Other activities for children, Bring a basket to collect the eggs!, concessions / refreshment stand, restrooms
3450 Stilesboro Road Nw, Kennesaw, GA 30152. Phone: 770-425-6726. Email: joy@livinghopega.com. Event date and time: Easter Easter Sunday, April 16, 2017 from 9:45 am to 12:15 pm. Open: Click here for current open hours, days and dates. Directions: Click here for a map and directions. Payment: Free - no payments needed for anything. Click here for our Facebook page. 9:45 am Family Brunch until 10:45 in the Multi-Purpose Room (MPR)
9:45 am Family Brunch until 10:45 in the Multi-Purpose Room (MPR)
10:15 am Overview of Morning Activities in the Living Hope Sanctuary
10:25 am Pre-K and Kindergarten Students:Butterfly Release & Easter Bunny Pictures in Courtyard
1st Grade through 5th Grade Students: Butterfly Release on Living Hope Front Lawn
10:45 am Pre-K and Kindergarten Students: EASTER EGG HUNT on East Playground
1st Grade through 5th Grade Students: EASTER EGG HUNT on North Playground & Easter Bunny Pictures in the Courtyard
Parents must attend the above activities with their children. Each child may receive 20 eggs during the hunt. Nursery care is provided from 11:15 am to 12:15 pm for children ages 2 and under. For more information, visit our website

or contact Joy Schubert, Children's and Family Minister, at by email, above, or by phone (also above). (UPDATED: March 29, 2017, JBS) (UPDATED: March 06, 2016, JBS) (UPDATED: March 18, 2015) (ADDED: April 11, 2014)
Marietta Easter Egg Hunt at Laurel Park - Easter egg hunt
151 Manning Road, Marietta, GA 30064. Phone: (770) 794-5601. Event date and time: Friday, April 7, 2017 at 6:30pm. Marietta Parks and Recreation Department. The hunt is divided into groups based on age, and after the hunt you can visit with the Easter Bunny for photo opportunities. (UPDATED: March 29, 2017, JBS) (UPDATED: March 06, 2016, JBS) (UPDATED: March 20, 2015, JBS) (UPDATED: April 03, 2014, from their website) (UPDATED: March 19, 2013, from their website)
McCleskey-East Cobb Family YMCA Easter Egg Hunt - Easter egg hunt
1055 East Piedmont Rd. NE, Marietta, GA 30062. Event date and time: Unfortunately. their website is dismal and provides no information at all about the egg hunt; you will need to call them, last year it was on the Sunday a week before Easter from 1:30pm to 2pm. Easter Egg Hunt ages 8 and under: See the Easter Bunny and hunt for prize-filled eggs! Bring your camera and Easter baskets. Held inside if it rains. Please arrive on time as this is fast and furious event. (UPDATED: March 29, 2017, JBS) (UPDATED: April 03, 2014, from their website) (UPDATED: March 19, 2013, from their website)
Northeast Cobb Community Helicopter Egg Drop - Easter egg hunt, inflatables, food, vendors, music, face-painting, photos with the Easter Bunny
Sprayberry High School, 2525 Sandy Plains Road, Marietta, GA 30066-5799. Alternate phone: (770) 423-1330. Email: billwatson@jrmmanagement.com. Event date and time: Saturday, April 15, 2017 from 10 am to 5 pm. There will be thousands of eggs on the field, and thousands more will be dropped from a helicopter. With candy, inflatables, face-painting, pictures with the Easter Bunny, lots of vendors, and fun for all ages! 10 am registration opens. Ages three and under Egg Hunt
(Toddler area will be available at each egg hunt) 11:30 am – Ages 3 and under egg hunt
1:30 pm – Helicopter drops eggs
1:45 pm – Ages 4-7 egg hunt
3:30 pm – Ages 8 to 10 egg hunt (a toddler area will be available at each egg hunt). Egg Hunt Inflatables, food, vendors, music, photos with the bunny. (UPDATED: March 29, 2017, JBS) (UPDATED: March 06, 2016, JBS) (UPDATED: March 20, 2015, JBS) (UPDATED: April 03, 2014, from their website) (UPDATED: March 19, 2013, from their website)
Mt. Bethel United Methodist Church Easter Egg Hunt - Easter egg hunt,
4385 Lower Roswell Road, Marietta, GA 30068. Phone: (770) 971-2880.Email: dianne.hylton@mtbethel.org. Event date and time: Saturday, April 15, 2017 from 9am-10:30am.Family Day at Jerusalem Market & Easter Egg Hunt – experience the smell of spices in Jesus' Day, make pottery, jewelry, petting zoo, and more. Reservations required. Free. You'll want to bring an Easter basket, camera, and friends to the egg hunt that will include an Easter Bunny, petting zoo, and crafts! Please donate one dozen empty plastic eggs and one bag of pre-wrapped candy (no chocolate) for each child participating. Drop the eggs and candy in the basket across from the book store by March 30. Volunteers are needed to help on Saturday. (UPDATED: March 29, 2017, JBS) (UPDATED: March 06, 2016, JBS) (UPDATED: March 20, 2015, JBS) (UPDATED: April 03, 2014, from their website) (UPDATED: March 19, 2013, from their website)
Sewell Mill Baptist Church - Easter egg hunts for children, Easter egg hunts for infant, Easter egg hunts for toddlers, Held indoors in bad weather, Tents or other provisions are made for bad weather, FREE admission, Children's crafts, Children's music and storytelling, Other activities for children, Bring a basket to collect the eggs!, concessions / refreshment stand, restrooms, face painting, jumping pillow
2550 Sewell Mill Rd, Marietta, GA 30062. Phone: (770) 971-2636. Email: sasha.watson@sewellmill.org. Event date and time: I cannot find anything on either their website or Facebook page - it may have been discontinued. . Directions: Click here for a map and directions. Payment: Cash, Check. Sewell Mill Baptist Church & Sewell Mill Christian School will host their 3rd Annual Spring Fling & Easter Egg Hunt! The custom of the Easter egg originated with early Christians, who stained the eggs red in memory of the blood of Christ shed at His crucifixion. Join us for a community event to kick-off the Easter season featuring egg hunts for children through 5th grade with prizes, plus crafts, games and a silent auction. Lunch will be served at $5 per plate for an Adult and $3 for children. Admission is free, but please consider a donation to our campaign. All proceeds to benefit the missionaries we support in six different countries. Bring your Easter basket, camera, sunscreen and friends!. (UPDATED: March 16, 2016) (ADDED: February 19, 2015)
Smith-Gilbert Gardens Easter Egg Hunt and Family Event - Easter egg hunt
Smith-Gilbert Gardens, 2382 Pine Mountain Road, Kennesaw, GA 30152. Phone: 770-919-0248. Event date and time: Saturday, April 15, 2017 from 10:00 am to 2 pm. The ticket price includes garden admission, one egg hunt ticket based on the child's age, games and crafts, and an opportunity to meet the Easter Bunny; pre-registration for the egg hunts is required. Online registration opens to the public on March 13. There will be four different age groups and the hunts will take place in three separate garden areas. Each age group will have a hunt to match their skill level. Due to the limited space, no egg hunt tickets will be sold on the day of the event. Special pricing and early registration for Garden members is available. The Easter Egg Hunt is a rain or shine event. Due to limited parking on-site, shuttles will be running from Adams Park (Ben Robertson Community Center). Visit www.smithgilbertgardens.com or call for complete details and to purchase tickets. (UPDATED: March 29, 2017, JBS) (UPDATED: March 06, 2016, JBS) (ADDED: March 19, 2015, JBS)
Tolleson Park Flashlight Easter Egg Hunt & Movie by Moonlight - Flashlight Easter egg hunt
Tolleson Park, 3515 McCauley Road, Smyrna, GA 30080. Phone: (678) 631-5541. Event date and time: Saturday, April 8, 2017 from 7:00 PM - 9:30 PM. Stay and watch the feature film PAN on an outdoor screen after the egg hunt! Cost: Advanced Registration $5 per family / $10 per family at the gate. Join us for a new twist to a beloved holiday tradition. Children up to age 10 years are encouraged to bring a flashlight and Easter basket to the hunt. Children will be divided into age groups. Youngest age group (children 5 years and younger) begins their hunt at 7:30 p.m. Children age 6 to 10 years begin their hunt at approximately 8:00 p.m. After the egg hunt, stay to watch the feature film PAN on the big outdoor screen for the first Movie by Moonlight date of the season! Register online at www.smyrnacity.com in person at the Smyrna Community Center, or the Wolfe Adult Recreation Center. *Rain date is Saturday, March 26.*. (UPDATED: March 27, 2017, JBS) (ADDED: March 07, 2016, JBS)
Coweta County
Dekalb County
Kirkwood Family Find Easter Egg Hunt - Easter egg hunts for toddlers, Easter egg hunts for children, Easter breakfast (no bunny), Cancelled in inclement weather (call if the weather looks bad), FREE admission, Children's crafts, Other activities for children, Baskets are provided, restrooms, face painting
Bessie Branham Park 2051 Delano Avenue, Atlanta, GA 30317. Phone: 678-607-6076. Email: zocase@gmail.com. Event date and time: Saturday, April 8, 2017 from 10am to 11:30 am. Directions: At Bessie Branham park on the fields. Click here for a map and directions. Payment: Cash, only. Notes: You're Invited! Bring the kids to the Kirkwood Family Find... an Easter Egg Hunt! This is part of an annual community Easter egg hunt at Bessie Branham Park in Kirkwood. We will have over 2000 eggs, filled with candy and prizes. The event begins at 10am and the hunts will be grouped by age. Children ages up to 12 are invited to participate in the egg hunts. There will be many activities for the children. Free breakfast will be provided for all parents and children who attend!. Up to 12 years old. (UPDATED: March 29, 2017, JBS) (UPDATED: March 06, 2016, JBS) (UPDATED: April 03, 2014, from their website) (ADDED: March 18, 2012)
Skyland Methodist Church - Easter egg hunts for children, Easter egg hunts for infant, Easter egg hunts for toddlers, Postponed in bad weather (see comments section), FREE admission, Children's crafts, Bring a basket to collect the eggs!, restrooms, face painting
1850 Skyland Terrace Ne, Atlanta, GA 30319. Phone: 404-634-6209. Email: sumchurchoffice@gmail.com. Event date and time: Easter Egg Hunt starts on Saturday, Based on last year's date, it SHOULD be held on Saturday, April 15, 2017 (but be sure to check on their website or call them first as we haven't yet received an update from them) 2 pm. Directions: From I-85: Exit I-85 at the Clairmont Road exit (#91). Go north on Clairmont Road for 1.4 miles (cross over Buford Highway). Take a left onto Skyland Road. Go up the hill about 400 feet and and bear right on Stoland Drive. Immediately take a left onto Skyland Terrace. The church is right before you. Turn right into the parking lot down the hill. Payment: Free - no payments needed for anything. Easter Egg Hunt is for children up through 6th grade. Children will be divided into four different age groups for the Hunt. Refreshments will be provided after the hunt. (UPDATED: March 06, 2016) (ADDED: March 21, 2015)
Douglas County
Elbert County
Richard. B. Russell State Park - Easter Egg Hunt
Richard B. Russell State Park, 2650 Russell State Park Drive, Elberton, GA 30635. Phone: 706-213-2045. Event date and time: Saturday, April 15, 2017 from 10 AM to 11 AM. We will be hiding 500 Easter Eggs as well as 10 Golden Eggs on the disc golf course. If you are lucky enough to find a Golden Egg you will win an Easter Surprise! We will have two age groups: 5 and under and ages 6-12. Parking fee: $5. (ADDED: March 27, 2017, JBS)
Fayette County
Peachtree City Optimist Easter Egg Hunt - Easter egg hunt
Shakerag Knoll, 191 McIntosh Trail, Peachtree City, GA. Event date and time: Saturday, April 15, 2017 from 10 am to 12 pam. At the McIntosh Trail Recreation Complex. The Optimist Club of Peachtree City and the Peachtree City Fire Department will host a free Easter Egg Hunt for children ages 2 through 11. Come visit with the Easter Bunny and Sparky the fire dog and have your picture taken with them. A bounce house and a dinosaur slide will be provided by The Bounce House. There will be a free raffle for The Big Easter Bunnies, as well as additional fun activities and prizes. The Peachtree City Fire Department will have some fun "safety" activities along with their Fire Trucks. This year's event will also feature a special Easter Egg Hunt for children with food allergies. Bring your own Easter basket or decorate your own Easter bag. NO PETS PLEASE. It is in the wooded area at Shakerag Knoll near the Frederick Brown, Jr. Amphitheater. Free. (UPDATED: March 06, 2016, JBS) (UPDATED: March 20, 2015, JBS) (UPDATED: April 03, 2014, from their website) (ADDED: March 9, 2013, from their website)
Forsyth County
Franklin County
Tugaloo State Park Great Tugaloo Egg Hunt - Easter egg hunt
1763 Tugaloo State Park Rd, Lavonia, GA 30553. Phone: 706-356-4362. Event date and time: Saturday, April 15, 2017 from 10 AM to 11 am. Help our rangers rescue the eggs before the foxes get to them. Meet at the Beach Pavilion to decorate your bags/baskets and don your fox ears to go undercover and get to the eggs before the real foxes do. If your lucky you may uncover a golden egg, that contains a special prize. This event is free of charge with the exception of the $5 parking fee. For directions to the Beach Pavilion see our site map on the website or enter the office at the entrance of the Park for a physical map. In the event of inclement weather the event may be canceled or postponed. Parking fee: $5. (UPDATED: March 29, 2017, JBS) (ADDED: March 07, 2016, JBS)
Fulton County (North Fulton)
Fulton County (South Fulton)
Greene County
Bogan Park Community Recreation Center & Aquatic Center Underwater Easter Egg Hunt - Underwater Easter egg hunt
2723 North Bogan Road, Buford, GA 30519. Phone: 678-277-0850. Alternate phone: 678-277-0853. Event date and time: Saturday, April 15, 2017 from 9:00 AM to 1:00 PM. Children under the age of 6 years old must be accompanied in the water by an adult 18 or over. All ages. Must pre-register by 3/21/2016 online with code: BOP11402 or call. Cost: $15/person. (ADDED: March 07, 2016, JBS)
Duluth Parks and Recreation Easter Egg Hunt - Easter egg hunts for children,
Scott Hudgens Park, 4545 Rivergreen Pkwy, Duluth, GA 30096. Phone: (770) 814-6981. Event date and time: Saturday, April 15, 2017, The City of Duluth Parks & Recreation Department welcomes children of all ages to the 23rd Annual Egg Hunt at Scott Hudgens Park. The kid-friendly activities begin at 1 p.m. BRING BASKET and plan to have lots of fun! Eggs will be supplied by the City.
1 p.m. –Kid friendly event
2 p.m. – EGG HUNT (All Ages)
*The Egg Hunt will be divided into two groups, ages 3 & under and ages 4 & up*.
RAIN DATE: April 22, 2017, Same place, Same time. (ADDED: March 28, 2017, JBS)
Elevation Point Easter Egg Hunt - Easter egg hunts for toddlers, Easter egg hunts for children, The Easter bunny will make an appearance, Visits and photos with the Easter Rabbit, FREE admission, Other activities for children, concessions / refreshment stand, restrooms, face painting, Bounce house
3734 Rosebud Road SW, Loganville, GA 30052. Phone: 732-972-4222. Email: hello@elevationpoint.org. Event date and time: Easter Sunday; egg hunt with both services; after both services. Directions: Click here for a map and directions. Payment: Click here for our Facebook page. (UPDATED: March 29, 2017, JBS) (UPDATED: March 20, 2015, JBS) (ADDED: March 03, 2013)
Epiphany Lutheran church - Easter egg hunts for children, Easter egg hunts for toddlers, Breakfast (no bunny), FREE admission, Children's crafts, Children's music and storytelling, Other activities for children, Bring a basket to collect the eggs!, inflatables/bounce house, petting zoo
1350 Peachtree Industrial Blvd, Suwanee, GA 30024. Phone: 770-831-1966. Email: cofita@yahoo.com. Event date and time: Click here for current hours, days and dates. Directions: Click here for a map and directions. Click here for our Facebook page. Hop on over to the Easter Egg Hunt! Community invited! Saturday, March 28, 10 am - 1 pm Toddlers thru 5th Grade Bring your own basket and bring your friends! Egg Hunt ... Petting Zoo Bounce House ... Games/Storytime Lunch will be served. (UPDATED: March 29, 2017, JBS) (UPDATED: March 07, 2016, JBS) (UPDATED: March 05, 2015) (ADDED: March 04, 2015)
George Pierce Park Community Recreation Center Egg-stravaganza - Easter egg hunt
George Pierce Park Community Recreation Center, 55 Buford Highway, Suwanee, GA 30024. Phone: 678-277-0910. Event date and time: Based on last year's date, it SHOULD be held on Saturday, April 8, 2017 (but be sure to check on their website or call them first as we haven't yet received an update from them) at 1:00 PM. Bring your Easter basket and enjoy an egg hunt on the trail. Meet the Easter Bunny, have some springtime games and fun. $6/child, adults are free; must pre-register by 3/12 online with code GPP11401 or call. (ADDED: March 07, 2016, JBS)
Influencers Church Helicopter Easter Egg Drop - Easter egg hunts for infant, Easter egg hunts for toddlers, Easter egg hunts for children, The Easter bunny will make an appearance, FREE admission, Other activities for children, Bring a basket to collect the eggs!, Farm animals are present, concessions / refreshment stand, restrooms, face painting, Inflatables/bounce house, petting zoo, farm animals
Hull Middle School, 1950 Old Peachtree Road NW, Duluth, GA 30097. Email: pastorashley@influencerschurchatl.org. Event date and time: Based on last year's date, it SHOULD be held on Saturday, April 15, 2017 - but be sure to check on their website or call them first as we haven't received an update from them; from 11:30 am to 1:00 pm. Directions: Click here for a map and directions. Payment: Cash, only. Notes: Click here for our Facebook page. Easter Egg Drop 10am-Noon at Hull Middle School in Duluth. (UPDATED: March 20, 2015, JBS) (ADDED: March 20, 2013)
Lilburn Easter Egg Hunt - Easter egg hunts for children, The Easter bunny will make an appearance, Postponed in bad weather (see comments section), FREE admission, Other activities for children, Bring a basket to collect the eggs!,
Lilburn City Park, 76 Main Street, Lilburn, GA 30047. Phone: 770-638-2225. Alternate Phone: 770-921-2210. Email: rschmitt@cityoflilburn.com. Event date and time: Saturday, April 15, 2017 from 10 am to 12 pm. Directions: Click here for a map and directions. Payment: Cash, only. Notes: This free event begins at 10 am, with the egg hunt beginning promptly at 11 a.m. Children up to 12 years of age may hunt eggs. Parents are not allowed on the field, except with the 0-3 years age group. A special needs area will be available and parents are welcome to participate. Hosted by the City of Lilburn and the Downtown Development Authority. (UPDATED: March 29, 2017, JBS) (UPDATED: March 07, 2016, JBS) (UPDATED: March 22, 2015, JBS) (ADDED: April 09, 2014)
Malibu Grand Prix FREE Giant Easter Egg Hunt - Easter egg hunt
5400 Brook Hollow Parkway, Norcross, GA 30071. Phone: 770-416-7630. Email: jadams@palaceentertainment.com. Event date and time: See their website or call for the date (this event was held in 2013, but I have not been able to find any information about this year) - it was the Saturday before Easter. Crafts, hourly giveaways, Easter eggs, and an appearance by the Easter Bunny. Cost $15.99 All Day Play Pass if purchased between 11a-12:30p. Coupon required, click here to print the coupon. (UPDATED: March 05, 2013, from their website) (ADDED: March 30, 2011, suggested by a visitor)
Mall of Georgia Easter Egg Hunt - Easter egg hunt
3333 Buford Drive, Buford, GA 30519. Phone: (770) 271-9458. Event date and time: Based on last year's date, it SHOULD be held on Saturday, April 15, 2017 - but be sure to check on their website or call them first as we haven't received an update from them; , Join us at 9:30am in the Village for our annual Easter Egg Hunt! Age Groups are: 0-4 years of age and 5-10 years of age. Don't forget your basket! Don't forget your basket!. Don't miss our annual Mall of Georgia Easter Egg Hunt in the Village. (UPDATED: March 20, 2015, JBS) (UPDATED: April 03, 2014, from their website) (UPDATED: March 5, 2013, from their website)
Rhodes Jordan Park Soccer Fields Illuminated Egg Hunt - Flashlight Easter egg hunt
100 E Crogan St, Lawrenceville, GA 30046. Phone: 678-277-0890. Event date and time: Saturday, April 14, 2017, at 7 PM. The hunt is on for Easter eggs…in the dark! Experience the thrill of night time hunting during this egg-stra special Easter experience. During the first half of this event, children will enjoy making themed crafts. Then the egg hunt for children 2-5 begins promptly at 8:00pm, ages 6-9 at 8:30pm and ages 10-12 at 8:45pm. Be sure to bring your basket and a flashlight. Space is limited so register early! Parents are free and must accompany children. Age 2-12; $6/person, must pre-register by 3/11 online with code: RJP11425 or call. (UPDATED: March 27, 2017, JBS) (ADDED: March 07, 2016, JBS)
Sugarloaf Mills Easter Eggstravaganza - Easter-themed crafts, activities and games
5900 Sugarloaf Pkwy, Lawrenceville, GA 30043. Event date and time: Saturday, April 8, 2017 from 1 pm to 3 pm. Sugarloaf Mills will host a special Easter Eggstravaganza event in the Food Court. Children can participate in various Easter-themed crafts, activities and games. Participants will also receive a special Easter goody bag. (ADDED: March 29, 2017, JBS)
Hall County
J.A. Walters YMCA Easter Egg Hunt - Easter egg hunts for infant, Easter egg hunts for toddlers, Easter egg hunts for children, Held indoors in bad weather, FREE admission, Other activities for children, Bring a basket to collect the eggs!, restrooms, picnic area, face painting
J.A.Walters YMCA, 2455 Howard Road, Gainesville, GA 30501. Phone: 770-297-9622. Email: pbecerra@gamountainsymca.org. Event date and time: Based on last year's date, it SHOULD be held on Saturday, April 8, 2017 (but be sure to check on their website or call them first as we haven't yet received an update from them) at 9:30 am. Directions: Click here for a map and directions. Payment: Cash, only. Notes: Click here for our Facebook page. An awesome, Egg Huntin' time at the Y! We'll have fun for all ages, with separate Egg Hunts for different age groups, and vendors providing goodies and crafts! For more information, please contact: Pam Becerra. (UPDATED: March 07, 2016, JBS) (UPDATED: March 5, 2013, from their website)(ADDED: April 18, 2011)
Haralson County
Yogi Bear's Jellystone Park - Easter egg hunts for all ages (includes adults), Easter Train Ride, Postponed in bad weather (see comments section), There is an admission fee, Children's crafts, Other activities for children, Farm animals are present, restrooms, face painting, Inflatables/bounce house, petting zoo, birthday parties, school tours, events at your location (call for info)
106 King Street, Bremen, GA 30110. Phone: 404 625 2070. Email: info@gajellystone.com. Event date and time: Easter weekend; Easter Egg Hunt with Bunnies! Train Rides, Hay Rides, Bounce House, Go Fishing, Playgrounds, Reptile Show & Yogi Bear! $4.00 Adults, $6.00 Kids (Includes Easter basket & egg hunt)+TAX Available at additional cost: All new jump pad, peddle carts, mini golf, gem mining, pony rides. . Directions: Interstate 20 exit 9. Follow logoed interstate signs to park which is 2 miles off I-20. Click here for a map and directions. Payment: Cash, Debit cards, Visa/MasterCard, Discover, AmEx. Notes: Click here for our Facebook page. The Jellystone Park is open year round and has in season swimming, mini golf, gem mining, playgrounds, reptile exhibit, camping (cabin, RV and tent sites available), activity schedule and more. Pumpkin Patch activities include hay rides, train rides, pumpkin patch, pumpkin painting, reptile shows, face painting, children's activities and of course Yogi Bear! Easter Egg Hunt activities include hay rides, train rides, basket decorating (baskets provided) Easter egg hunt, reptile shows, face painting, children's activities and of course Yogi Bear!. (UPDATED: March 29, 2017, JBS) (UPDATED: March 07, 2016, JBS) (UPDATED: March 20, 2015, JBS) (UPDATED: April 03, 2014, from their website) (ADDED: September 05, 2013)
Hart County
Heard County
Henry County
Henry County Flashlight Easter Egg Hunt - Easter egg hunt, FREE admission, Bring a basket to collect the eggs!,
Nash Farm, Battlefield 4361 Jonesboro Road, Hampton, GA 30228. Phone: 770-288-7300. Email: parksrec@co.henry.ga.us. Event date and time: Friday, March 30, 2017 from 5:30pm to Sundown. Directions: From I-75 take exit 221 (Jonesboro Road /Lovejoy). Travel west approximately 5 miles and turn left onto Babb's Mill Road 4th entrance is parking lot. (UPDATED: March 5, 2013, from their website). Click here for a map and directions. (UPDATED: March 29, 2017, JBS) (UPDATED: March 20, 2013)
Locust Grove Annual Easter Egg Hunt - Easter egg hunt
Locust Grove Municipal Complex, 3644 Highway 42, Locust Grove, Ga 30248. Phone: 770-957-5043. Event date and time: Saturday, April 15, 2017 from 10 am to 11 am. The Annual Easter egg hunt is for ages 2 years - 6th grade. (UPDATED: March 29, 2017, JBS)
Panola Mountain State Park Eggciting Hike Hunt - Easter egg hunt
2600 HIGHWAY 155 SW, Stockbridge, GA 30281. Phone: 770-389-7801. Event date and time: Saturday, April 15, 2017 from 10 am to 10:30 am. Peter Cottontail is leaving lots of eggs hidden on our nature trails. Can you help us find them all? Bring your basket and be ready for the hunt! Ages 2 and less, 3-6, and 7-12 will have their own trails to search for eggs and prizes. We will start the egg hunt at 10 AM, leaving plenty of time for story-time and crafts before lunch. After you've collected your candy, please help us do our part for the planet by returning your empty eggs in our designated bins so we can reuse them. Thank you. Admission: $2. Parking fee: $5. (UPDATED: March 29, 2017, JBS)
Jackson County
Jasper County
Lamar County
Madison County
Meriwether County
Morgan County
Newton County
The Church At Covington-Annual Easter Egg Hunt - Easter egg hunts for infant, Easter egg hunts for toddlers, Easter egg hunts for children, Easter egg hunts for all ages (includes adults), The Easter bunny will make an appearance, FREE admission, Children's crafts, Other activities for children, Bring a basket to collect the eggs!, snacks and refreshment stand, restrooms, face painting, Bouncy castle or moon bounce, pony rides
11975 highway 142 N, Oxford, GA 30054. Phone: 770-786-7293. Email: tcac@thechurchatcovington.org. Event date and time: I see nothing on their website for this year. IN past years they had an Easter Egg Hunt planned for ages 0-5th grade immediately following the Easter Sunday morning service. Directions: Click here for a map and directions. Notes: Infants- fifth grade. (UPDATED: April 3, 2015, JBS) (UPDATED: March 22, 2011, from their website) (ADDED: March 30, 2010)
Oconee County
Oglethorpe County
Paulding County
Pike County
Polk County
Putnam County
Rockdale County
Spalding County
Troup County
Walton County
The Orchard Church's Annual Great Egg Hunt - Easter egg hunts for children, Easter egg hunts for infant, The Easter bunny will make an appearance, FREE admission, Other activities for children, Bring a basket to collect the eggs!, concessions / refreshment stand, restrooms, picnic area, face painting, Inflatables/bounce house
4180 Center Hill Church Road, Loganville, GA 30052. Phone: 770-554-3533. Email: info@theorchardchurch.org. Event date and time: Check with them; there is nothing on their website for this year. Directions: We are located just off Highway 81 about three miles south of Highway 78 and three miles north of Highway 138 near Center Hill Church Road and Youth Middle School. Set your GPS for 1950 Highway 81 South, Loganville, Georgia 30052. Click here for a map and directions. Payment: Cash, only. Notes: Click here for our Facebook page. Rain or shine for the annual Orchard Egg Hunt and Carnival. Come enjoy free games and inflatables along with affordable concessions. Then get ready to hunt over 25,000 eggs! All takes place at Bluesprings soccer fields.Egg Hunt & Carnival! 25,000+ eggs on ten acres. Inflatable's and games galore beginning at 3:00 PM. Three age-specific hunts beginning at 4:40 PM. Attractions are free. Affordable concessions available. A community-wide event hosted by The Orchard Church at Bluesprings Soccer fields. Take your own pictures with the Easter Bunny. All attractions are free. Affordable concessions available. A free community-wide event open to everyone, hosted by the Orchard. Age Specific Hunts begin at 4:40 pm. (UPDATED: March 20, 2015, JBS) (UPDATED: April 03, 2014, from their website) (ADDED: April 04, 2011)
Stone Mountain Easter Service - Easter service - no egg hunt
Stone Mountain Park, Antebellum Plantation, Hwy 78, Stone Mountain, GA. Phone 7 70-498-5690. Event date and time: Easter Sundayat 7:00 am (Park Gates open at 4:00 am) And see this page for upcoming events at Stone Mountain. They do NOT have an Easter Egg Hunt; They do have an Easter Service, though. Sign Language Interpreter for the Hearing Impaired at the base of the Mountain on the Memorial Lawn. Please allow an extra hour or more for large crowds. Vehicle entry to the park is $10 for a one-day permit or $35 for annual permit. Church vans and buses enter free. 2015 Tickets and 2015 prices: Vehicle entry to the park is $15 for a one-day permit or $40 for annual permit. Church vans and buses enter free. Skyride fees are $10 for round-trip and $6 for one-way. There are no fees for the walk-up trail to the top of the mountain. For visitors staying the day, they can purchase the Adventure Pass for $29.95 for adults and $24.95 for children. (UPDATED: March 29, 2017, JBS) (UPDATED: March 20, 2015, JBS) (UPDATED: April 03, 2014, from their website) (UPDATED: March 11, 2013, from their website)