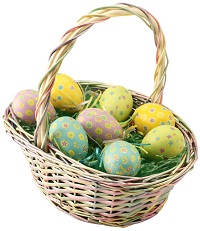 Looking for a local Easter egg hunt for your children? Or an Easter parage, Easter brunch or breakfast or other Easter events in Hong Kong, China? Scroll down this page and you will see all of thoses in Hong Kong, China, sorted by county. ALWAYS either see their website or call before you go to confirm the info, there are often last minute changes which they do not report to us!
If you know of one we missed and want to add it or correct the information, please let me know! There are affiliate links on this page. Read our disclosure policy to learn more. There are affiliate links on this page. Read our disclosure policy to learn more.
Updates for January 2020
January: Easter Sunday will be April 21, 2019. Most Easter egg hunts are being held on the Saturday a week before Easter, or the day before Easter Sunday. ALWAYS click the links to check date and time with the event's own website, as there are often last minute cancellations, postponements or changes to locations due to weather (like heavy rains in the northeast) or logistical problems, just click on the link to the event's website and (in most cases), you want to click on the "events" link or "calendar" link on their website. Or use their site search for "Easter". Do let them know you found them here, so they will update us next year. Since many egg hunts do not publish the current year's dates until the very last minute, or simply never respond to email, we may not get their current information, which is why we have links to their websites, facebook pages and calendars. Besides egg hunts, there are also Easter breakfasts and brunches and Easter parades to watch!
If you need to add your egg hunt or update your existing information, click on these links.
RELATED:
You may also want to
go to a local farm to
Pick Your Own fruit and vegetables
; strawberries start very soon in most areas!
And if you are looking for local
children's consignment sales, also often held by churches in the Spring and Fall, click here
!
Easter Egg Hunt, Parade and Event Listings
Hong Kong
Discovery Bay Egg Hunt - Easter egg hunt
Discovery Bay Tai Pak Beach Seahorse Lane, Discovery Bay, Hong Kong. Phone:

2295 8288.

Event date and time: Multiple dates, see their website for details, March 30-31, 2019. Jointly organized by Discovery Bay and Kodomo Communications, the one-of-a-kind event in town - Kinder Joy Discovery Bay Easter Egg Hunt on the Beach is fun for families and kids digging up Easter eggs on the beach. Due to the current enhancement works of the DB Bus Terminus, participants are recommended to travel to and from Discovery Bay by ferry on the event days. For the convenience of participants, additional ferry services will be available from Tsuen Wan West Pier (next to Tsuen Wan West MTR Exit D) on top of the regular ferry services from Central Pier 3 on the event days. A. Free Ferry Rides for Child Participants (To Discovery Bay): The child participant bearing his/her egg hunt pass in ePass format is entitled to travel by ferry from Central Pier 3 or Tsuen Wan West Pier to Discovery Bay on 19 & 20 April 2019 on a complimentary basis.
Disney Character Egg Hunt - Easter egg hunt
Hong Kong Disneyland, Lantau Island, Hong Kong. Phone: +852 1-830-830. Event date and time: Multiple dates, see their website for details. There will be about 100 character-themed eggs scattered around the Park and Resort hotels, decorated like Marvel Super Heroes, Disney friends and more to find. Disney says " During the day, join over 30 Disney friends in an energetic processional filled with merry music. Then, as the sunlight fades, immerse in luminescent fun at our "We Love Mickey!" celebration - a brand new Main Street projection show. Be on the lookout for surprise encounters throughout the day with all kinds of whimsical Disney characters, and extend the fun with a stay at one of our three resort hotels. Families can soak in the carnival with a wonderful Easter Magicarnival, and also join a character egg hunt across the hotels."
DiVino Patio - Easter egg hunt
Shop 11, 1/f, BRIM28, Causeway Bay Centre, No 28 Harbour Road, Wanchai. Phone: +852 2877 3552. Event date and time: Easter weekend, April 19-22, 2019. Looking for Easter egg hunt with an Italian twist. DiVino Patio offers an Easter egg hunt, egg painting, and its renowned pizza class for the young ones. The Pizza Making ideal for kids aged 3-10 years old. The cost per child is HK$198 & 10%.
Frites Easter Egg Hunt and Magic Show - Easter egg hunt
The Wellington 1/F, No 198 Wellington Street, Central, Hong Kong. Phone: 2217 6671. Email:

[email protected]

. Event date and time: Easter Sunday, April 21, 2019 at 2pm at all FRITES venues in HK. Easter Bunny is on his way and FRITES will celebrate with bucket loads of Easter fun - complete with a Easter Kid's Party for everyone to enjoy. Come and visit us as we kick off our Easter Kid's Party at 2pm in all FRITES venues. There will be an Easter egg hunt at 2pm followed by a magic show at 2:30pm. Come dressed in your best Easter outfit for a chance to win a prize for the Best Costume. *Lunch bookings are essential to ensure you and your family don't miss out on the fun! Please click here to book now. WhatsApp Bookings: 9282 1369.
Little Monkey Easter Egg Hunt - Easter egg hunt
Tesbury Centre, 28 Queen's Road East, Wanchai. Phone: +852 5287 6210. Email:

[email protected]

. Event date and time: April 6, 2019 from 2pm to 4pm. Meet the Easter Bunny! Join Little Monkey in our Easter Hunt Party on April 6th at the new Baumhaus Annex, next to the Baumhaus Flagship centre in Wan Chai! Little ones and their family can meet, dance with, and take pictures with the Easter Bunny, complete an Extravaganza Easter Hunt with top prizes for the winners and be able to attend mini Kindermusik and performing arts sessions, led by Baumhaus' creative arts teachers. Baumhaus has been ranked as #1 in Hong Kong and #6 globally out of all the Kindermusik programs. Each child will receive a goody bag with vouchers and a special gift from Little Monkey. We encourage the children to dress up for their picture with the Easter Bunny! This event is for Little Monkey members ONLY and while membership is free to register on our website; this event requires tickets to be purchased to attend. Recommended for age 6 and below. No walk-ins accepted. Child Ticket includes one accompanied adult. Additional adult must purchase ticket. Socks are required for all adults and non-slip socks are advisable for children over the age of 4yrs. BUY TICKETS HERE.
Mamasmart Easter in the Park - Easter egg hunt
Resurrection Amusement Park, VESSEL 02 - 90 Kwun Tong Beach Road, Hong Kong. Phone: (+852) 9431 7806. Email:

[email protected]

. Event date and time: Easter weekend, April 21-22, 2019 from 12pm-6pm. MAMASMART hosts outdoor parent-child activities every Easter, and this year is no exception! We will co-organize with the VESSEL Discovery, in addition to the exciting Easter Egg Hunt, there are also a number of art workshops, food and beverage experience, creative theater and positive Educational sharing, music and story links, etc., wonderful programs can not be recorded, please pay attention to the latest announcement for more details!
The Royal Hong Kong Yacht Club - Easter egg hunt, Easter Sunday Lunch buffet and children's entertainers.
Royal Hong Kong Yacht Club Kellett Island, Causeway Bay, Hong Kong. Phone: 2239 0386. Email:

[email protected]

. Event date and time: Easter Sunday, April 21, 2019, April 21, 2019. Enjoy our egg-cellent Family Buffet Lunch in the Bistro on Sunday 21 April with sumptuous dishes including Devil Eggs, Seafood Platter, Slow-cooked Prime Rib, Sautéed Blue Mussels, Asparagus and Cheese Tarts, Cup Cakes, Easter Cookies and more. The little ones will be all set with the entertainment on hand including balloon twisting, face painting and of course the Egg Hunt. For reservations, please call Lizzy Tung in the F&B Office or email.
Illustrated Canning, Freezing, Jam Instructions and Recipes
[ All About Home Canning, Freezing and Making Jams, Pickles, Sauces, etc. ] [FAQs - Answers to common questions and problems] [Recommended books about home canning, jam making, drying and preserving!] [Free canning publications to download and print]
For more information, see the menu bar at the top of the page: Resources and Related Websites