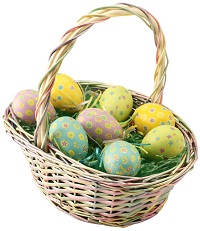 Looking for a local Easter egg hunt for your children? Or an Easter parage, Easter brunch or breakfast or other Easter events in Eastern Shore of Maryland? Scroll down this page and you will see all of thoses in Eastern Shore of Maryland, sorted by county. ALWAYS call before you go to confirm the info, they don't always report changes to me!
If you know of one we missed and want to add it or correct the information, please let me know!
Updates for February 2019
February: Easter Sunday will be April 21, 2019, If you plan to hold an Easter egg hunt, add or update your information as soon as you can. In 2018 most Easter egg hunts were held on either Saturday, March 24, 2018 or Saturday, March 31, 2018. ALWAYS click the links to check date and time with the event's own website, as there are often last minute changes due to weather or logistical problems, just click on the link to the event's website and (in most cases), you want to click on the "events" link or "calendar" link on their website. Or use their site search for "Easter". Do let them know you found them here, so they will update us next year. Since many egg hunts do not publish the current year's dates until the very last minute, we may not get their current information, which is why we have links to their websites, facebook pages and calendars. See their events calendar. There are also Easter breakfasts and brunches and Easter parades to watch!
RELATED:
You may also want to
go to a local farm to
Pick Your Own fruit and vegetables
; strawberries start very soon in most areas!
And if you are looking for local
children's consignment sales, also often held by churches in the Spring and Fall, click here
!
Easter Egg Hunt, Parade and Event Listings
Click on Resources above, if you need a county map
Caroline County
Cecil County
Kilby Cream - Easter egg hunts for children, FREE admission, Children's crafts, Bring a basket to collect the eggs!, Farm animals are present, restrooms, picnic area, farm animals, birthday parties, school tours
129 Strohmaier Lane, Rising Sun, MD 21911. Phone: 410-658-8874. Email: kilbycream@zoominternet.net. Event date and time: Based on last year's date, it SHOULD be held on Saturday, March 31, 2018- but be sure to check on their website or call them first as we haven't received an update from them; , at 11am. Directions: Click here for a map and directions. Payment: Cash, Check, Visa/MasterCard. Notes: Click here for our Facebook page. Join us for our annual Egg Hunt. There will be a straw maze and Kilby the Cow. Hunt will start promptly at 11. Be sure to bring your own basket. Kilby Cream has been producing farm fresh homemade ice cream in Rising Sun, Maryland since 2005. We make own mix and ice cream using milk from our Cecil County dairy. We are one of only three dairies in the state of Maryland that completes the whole ice cream making process right on the farm!.
Milburn Orchard - Easter egg hunt
Milburn Orchards, 1495 Appleton Road, Elkton, MD. Phone: (410) 398-1349. Event date and time: Saturday, Sunday, Thursday, Friday, 2015 Dates: March 28, 29, April 2, 3, 4,, plus Bonus Day-Monday, April 6! (closed Easter Sunday) 11am - 3pm, Egg Hunts start every 1/2 hour. Containers provided & Fun prizes awarded! f Our annual Easter Egg Hunts and our Breakfast with the Easter Bunny!) Easter Egg Hunt Hunts start every half hour and all get a prize. We start your Easter Egg Hunt with a hayride through the orchards to be sure everyone in the family can enjoy wholesome, "quality time" family fun. The The Easter Bunny and friends at Milburn OrchardsEaster Bunny will also be here, and then the Easter Egg Hunt begins, with eggs scattered all over the farm yard (crazy rabbit!) Each child/egg hunter will receive a prize of their choice. Fun and games at Easter at Milburn Orchards in Elkton, MarylandAll games, activities and hayrides are included, along with our great farmyard playground, the Easter Bunny House, and lots of time to visit the bunnies, goats, rabbits, and other critters-our Barnyard Buddies. Come join in for the bunny hop and other family games. (ADDED: April 14, 2014, from their website)
Restore Church - Easter egg hunts for children, Easter egg hunts for infant, Easter egg hunts for toddlers, The Easter bunny will make an appearance, Visits and photos with the Easter Rabbit, Postponed in bad weather (see comments section), FREE admission, Children's crafts, Children's music and storytelling, Other activities for children, Bring a basket to collect the eggs!, Farm animals are present, concessions / refreshment stand, restrooms, face painting, inflatables/bounce house, carnival rides, pony rides, petting zoo, farm animals
1696 Perryville Road, Perryville, MD 21903. Phone: (443) 243-4537. Email: info@restorechurch.net . Event date and time: Check with them for this year's date; 10am to 12pm. Open: Click here for current open hours, days and dates. Directions: Click here for a map and directions. Payment: Click here for our Facebook page. Egg Hunts take place every 20-30 minutes! Special Needs Egg Hunt (including wheelchairs) to take place at 10AM & 11AM Sharp! Register in Advance to be entered into a FREE raffle. All activities open the entire 2 hours: -Pony Rides thru Freedom Hills Therapeutic Riding -Photos with the Easter Bunny -Multiple Moon-bounces & Giant Obstacles Courses -Stick-On Tattoos -Easter Crafts and more! Egg Hunt Details: -Upon arrival you will be handed a quick registration form. There will be egg hunts approximately every 20 minutes. Don't worry we won't run out of eggs! We will be spreading eggs before each hunt to ensure all children have a chance to get some eggs! -The field will be divided into age groups (Baby(0-2), Toddler (3-4), (5-7), (8-12) Egg Hunt Rules: Parents will NOT be allowed onto the egg hunt field except for with children 4 & under & for the special needs hunt. No pushing, shoving, or hoarding of eggs will be tolerated during the hunt. All children are required to wear a wrist-band to enter the egg hunt. If they are unable to wear one their hand will be stamped at registration. What will be in the eggs? Nut-free candy (although we will say that there is always a chance some candy could contain nuts). Stickers & Stick-on Tattoos -Rubber BallsBaby (0-2) -Stickers Special Needs Egg Hunt: Restore is sensitive to the fact that some children with special needs miss out on opportunities that involve large crowds. For any questions in particular to this hunt please email.
Dorchester County
Kent County
Queen Anne's County
Somerset County
Talbot County
Wicomico County
Worcester County