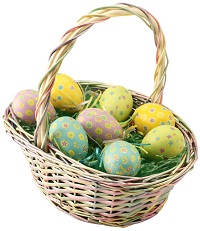 Looking for a local Easter egg hunt for your children? Or an Easter parage, Easter brunch or breakfast or other Easter events in Howard and Montgomery County, Maryland? Scroll down this page and you will see all of thoses in Howard and Montgomery County, Maryland, sorted by county. ALWAYS either see their website or call before you go to confirm the info, there are often last minute changes which they do not report to us!
If you know of one we missed and want to add it or correct the information, please let me know! There are affiliate links on this page. Read our disclosure policy to learn more. There are affiliate links on this page. Read our disclosure policy to learn more.
Updates for January 2020
January: Easter Sunday will be April 21, 2019. Most Easter egg hunts are being held on the Saturday a week before Easter, or the day before Easter Sunday. ALWAYS click the links to check date and time with the event's own website, as there are often last minute cancellations, postponements or changes to locations due to weather (like heavy rains in the northeast) or logistical problems, just click on the link to the event's website and (in most cases), you want to click on the "events" link or "calendar" link on their website. Or use their site search for "Easter". Do let them know you found them here, so they will update us next year. Since many egg hunts do not publish the current year's dates until the very last minute, or simply never respond to email, we may not get their current information, which is why we have links to their websites, facebook pages and calendars. Besides egg hunts, there are also Easter breakfasts and brunches and Easter parades to watch!
If you need to add your egg hunt or update your existing information, click on these links.
RELATED:
You may also want to
go to a local farm to
Pick Your Own fruit and vegetables
; strawberries start very soon in most areas!
And if you are looking for local
children's consignment sales, also often held by churches in the Spring and Fall, click here
!
Easter Egg Hunt, Parade and Event Listings
Click on Resources above, if you need a county map
Howard County
B&O Ellicott Station Museum - Easter train, Easter egg hunt
Baltimore & Ohio Ellicott City Station Museum, 2711 Maryland Avenue, Ellicott City, MD 21043. Phone: 410-752-2490. Email:

[email protected]

. Event date and time: Saturday, April 20, 2019 from 9 AM. Join the B&O Ellicott Station Museum for special Easter egg hunts in the Roundhouse. Bring your own basket or purchase one at the B&O's Museum Store. Pre-register children for an age-appropriate time slot. Easter eggs will be filled with prizes and candy. Find the golden egg and win 4 tickets to Day Out With Thomas at the B&O Railroad Museum, April 26 -28 & May 3 - 5. $5 with paid admission, FREE for B&O members.
Chapelgate Church Easter Egg Hunt - Easter egg hunt
2600 Marriottsville Rd., Marriottsville, MD 21104. Phone: 410-442-5800. Event date and time: Saturday, April 20, 2019, at 10 am. Directions: located across from Turf Valley Town Square on Marriottsville Road. Invite your friends and neighbors to join us for our annual Egg Hunt. This community wide event is one of the largest egg hunts in the area and boasts over 5000 eggs filled with treats and treasures. Kids can enjoy special refreshments, face-painting, story and more. This year there will be a special toddler area so the big kids won't sweep up all the eggs!
Clark's Elioak Farm - Easter egg hunt, Photos with the Easter Bunny, There is an admission fee, Bring a basket to collect the eggs, porta-potties, pony rides, petting zoo, farm animals
10500 Clarksville Pike, Ellicott City, MD 21042. Phone: 410-730-4049. Email:

[email protected]

. Event date and time: Multiple dates: see our website or Facebook page, from 10 am to 5:30 pm. Directions: Click here for a map and directions. Payment: Cash, Debit cards, Visa or MasterCard, Discover. Children of different ages (ages 1 to 3 and 4 to 6) will have a chance to hunt for eggs all day (10 AM, 10:30, 11 AM, 11:30, 12 noon, 12:30, 1 PM, 1:30, 2 PM, 2:30, 3 PM, 3:30, 4 PM, 4:30 and 5 PM) on both Saturday and Sunday. Our $7 per person admission fee for the farm applies, but there is no extra charge for the egg hunt. The petting farm, rides and play areas are open for you to enjoy. When you are ready to participate in the egg hunt, come to the Egg Hunt area and your child will line up with other children and pick up eggs. The eggs will then be turned in for a goodie bag. The first egg hunt each time will be for the 1-3 year olds. Once they are finished and while they are turning in their eggs for the goodie bags, the 4-6 year olds start their egg hunt. It all happens very quickly. We make sure each child gets at least a few eggs and since they turn them in for goodie bags, it doesn't matter how many they get. It's our goal that they have fun, so we do everything we can to make sure the children have the chance to find eggs. GEM MINING and GEODE CRACKING, too. The petting farm, gem mining and rides will also be open on EASTER MONDAY. . (UPDATED: March 13, 2019)
First Lutheran Community Easter Egg Hunt - Easter egg hunt
First Evangelical Lutheran Church, Ellicott City, MD. Phone: 410-465-2977. Email:

[email protected]

. Event date and time: Saturday, April 20, 2019, at 12 pm to 3 pm. We're having an Easter Egg Hunt! Meet us on the front lawn with your basket & friends for festivities & fun. Lunch will be provided. Everyone is invited!
Harvester Baptist Church Easter Egg Hunt - Easter egg hunt
9605 Old Annapolis Road Ellicott City, MD 21042. Phone: 410-997-4992. Event date and time: Event date and time: Based on previous years' dates, it SHOULD be held on Saturday, April 13, 2019 (but be sure to check on their website or call them first as we still (as of April 1, 2019) cannot confirm this year's date and time) from 10 AM to 12 Noon. FREE!!!! Fun times, crafts, games, music for families!
Historic Savage Mill's Easter Egg Hunt - Easter egg hunt
Historic Savage Mill, 8600 Foundry Street, Savage, MD 20763. Phone: 410-792-2820. Email:

[email protected]

. Event date and time: Sunday, April 14, 2019 from 11 AM (NOTE: sold out already for 2019) . Cost is $11 and includes Basket, a visit from the Easter Bunny, and Much More! 100% of proceeds to benefit Make-A-Wish Mid-Atlantic. The Easter Bunny will be visiting the Mill from 12 PM to 2 PM!
Robinson Nature Center Spring Eggstravaganza for Tots - Easter egg hunt
Robinson Nature Center, 6692 Cedar Ln, Columbia, MD, 21044. Phone: (410) 313-0400. Event date and time: Sunday, April 14, 2019 from 9 am to 12 pm. Hop on down for a tot-friendly adventure through Robinson Nature Center's indoor exhibits and along paved portions of the trail (weather-permitting). Enjoy spring-themed crafts, music and games at your own, self-guided pace. Egg hunts held at 10 am and 11 am. Turn in found eggs for prizes! Meet bunnies available for adoption through Friends of Rabbits. All adults and children 1 year and older must register to participate. Call 410-313-0400 or register at the Center in person.
Roger Carter Community Center Pool egg hunt - Easter egg hunt
Roger Carter Community Center, 3000 Milltowne Drive, Ellicott City, MD, 21043. Phone: (410) 313-2764. Event date and time: April 6, 2019 from 12 Pm - 1:30 pm. Celebrate Spring by hunting for eggs in the community center's heated pool. Plastic eggs are filled with surprises, no food or candy and float in the pool. All children must be accompanied by an adult in the water. Bring your own basket! The hunt promptly begins 15 minutes after event start time. Pre-registration is required: space is limited. Registration/Info: 410-313-2764. Ages 2-11.
Montgomery County
Butler's Orchard Easter Eggstravaganza festival - Easter egg hunt
22200 Davis Mill Road, Germantown, MD. Phone: 301-972-3299. Event date and time: multiple Friday, Saturday and SUndays leading up to Easter (Closed Easter Sunday) in 2019 on April 13, 14, 18, 19, 20, 22, 27 and 28, 2019 from 10 am to 5 pm. Click here for the events calendar. Directions: Directions and map. Credit cards accepted. Click here for current hours and crops that are ready! Easter Egg hunts, hay rides, inflatables, pony rides and more. See their website for details. Bunnyland Admission includes… All Activities run continuously! Enjoy a hayride down the Bunny Trail. Race the Rubber Duck Derby. Hunt for colorful eggs (we provide the basket!). Exchange eggs for a goodie basket to take home. Visit with the farm's very own Country Bunny. Ride pedal tractors. Play in Hayromp and Playground. Hop in Inflatable. Ride the Giant Slides. See Bunnies, Lambs and Chicks. 2016 prices $9.00/child $7.00/adult. No reservations required. Service Animals Only, Please. Bunnyland Festival is weather dependent. Please call our recorded line before coming out. Weather updates will also be posted here on the homepage. Our Farm Market will be OPEN during Bunnyland Hours. Please call ahead to order your home baked pies, 301-428-0444. Since this is an outdoor event, we are dependent on the weather to enjoy all the activities. Remember to dress for the weather. If the weather is uncertain, please call before coming. All activities run continuously throughout the day. No reservations
Epworth United Methodist Church Annual Easter Egg Hunt - Easter egg hunt
Epworth United Methodist Church, 9008 Rosemont Drive, Gaithersburg, MD 20877. Phone: 301-926-0424. Email: [email protected] Event date and time: Saturday, April 13, 2019, from 11:30 am to 1:30 pm. Join Epworth UMC and Epworth EPK for our 7th annual Easter Egg Hunt! Bring your children for a time of fun for the whole family! Besides the Easter egg hunt there will be many activities to children of all ages.Register on their website.
Highlight Church and Agricultural History Farm Park - Helicopter Easter egg drop
18400 Muncaster Road, Derwood, MD 20855. Event date and time: Saturday, April 20, 2019, from 10 am to 12 pm. Highlight Church has an amazing weekend planned ahead. We are dropping 20,000 easter eggs from a helicopter at our Third Annual Easter Egg Drop! We'll have prizes, bounce houses, candy, and more. This will definitely be a memorable Easter for all! This year will mark the 3rd Easter Egg Drop to ever occur in Montgomery County, and each year keeps getting better. Last year, we dropped 12,000 eggs out of a helicopter, had over 1,400 people in attendance, and NBC News and Local WDVM joined us in person to cover the event. This year, we're expecting double the turnout! Thank you to our friends at Kona Ice, the first 500 kids to head to their truck will get a free icee! We're also excited to announce that Holy Crepes food truck will be in attendance! The fun will not stop after the drop. We invite you to join us on Easter Sunday for our special Highlight Easter Worship Experience at 9:30 AM and/or 11 AM at Shady Grove Middle School! We are so excited to celebrate Easter 2019 with you all!

For more information, see the menu bar at the top of the page: Resources and Related Websites