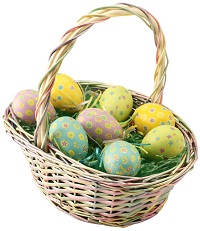 Looking for a local Easter egg hunt for your children? Or an Easter parage, Easter brunch or breakfast or other Easter events in Cleveland area of Ohio? Scroll down this page and you will see all of thoses in Cleveland area of Ohio, sorted by county. ALWAYS call before you go to confirm the info, they don't always report changes to me!
If you know of one we missed and want to add it or correct the information, please let me know!
Updates for February 2019
February: Easter Sunday will be April 21, 2019, If you plan to hold an Easter egg hunt, add or update your information as soon as you can. In 2018 most Easter egg hunts were held on either Saturday, March 24, 2018 or Saturday, March 31, 2018. ALWAYS click the links to check date and time with the event's own website, as there are often last minute changes due to weather or logistical problems, just click on the link to the event's website and (in most cases), you want to click on the "events" link or "calendar" link on their website. Or use their site search for "Easter". Do let them know you found them here, so they will update us next year. Since many egg hunts do not publish the current year's dates until the very last minute, we may not get their current information, which is why we have links to their websites, facebook pages and calendars. See their events calendar. There are also Easter breakfasts and brunches and Easter parades to watch!
RELATED:
You may also want to
go to a local farm to
Pick Your Own fruit and vegetables
; strawberries start very soon in most areas!
And if you are looking for local
children's consignment sales, also often held by churches in the Spring and Fall, click here
!
Easter Egg Hunt, Parade and Event Listings
Click on Resources above, if you need a county map
Ashland County
Green Township Annual Easter Egg Hunt - Easter egg hunt
Veterans Park, 6239 Harrison Ave, Cincinnati, OH 45247. Phone: 513-574-4848. Email: jbarlow@greentwp.org. Event date and time: Saturday, March 31, 2018 at 2 pm. COST: Free. We are postponing the 2018 Egg Hunt until Saturday, March 31st at 2:00 due to weather. Be sure to get there very early as the hunt will begin at 2:00 sharp and it is over in the blink of an eye! Parking is limited so get there early and be sure to bring a basket for the kids.
Ashtabula County
Ashtabula Downtown -Development Association Annual Easter "Eggstravaganza" - Visit with the Easter Bunny, Activities
Lance Cpl. Kevin M. Cornelius Park, Ashtabula, OH 44005. Phone: 440-812-6670. Event date and time: Saturday, March 31, 2018 from 1:30-3pm. Visit with the Easter Bunny, play games and collect treats from participating merchants. Activities start in and spread through Downtown Ashtabula.
Geneva Kiwanis Club Easter Egg Hunt - Breakfast with the Easter Bunny, Easter Egg Hunt
89 S. Broadway, Geneva, OH 44041. Phone: 440-466-1685. Email: clarick@ncweb.com. Event date and time: Saturday, March 31, 2018 at 10 am. This breakfast features all the pancakes you can eat with two sausage links or sausage gravy and biscuits. Pictures with the Easter Bunny are available for $10.00. Then real eggs will be hidden at Geneva Kiwanis Park, with prizes for all hunters. Ask any Geneva Kiwanian.
High Tide Tavern Adult Easter Egg Hunt - Adult Easter Egg hunt and Activities
High Tide Tavern, 5504 Lake Rd. E., Geneva-On-The-Lake, OH 44041. Phone: 440-466-7990. Event date and time: ACall them for this year's date, Starting at 8pm. Hunt for Easter Eggs packed with "Adult" novelties. DV/VJ/Karaoke from 8pm-12:30am.
Cuyahoga County
Erie County
Geauga County
Chardon Easter Egg Hunt And Pancakes with Easter Bunny - Easter egg hunt pancake breakfast with the bunny
Pilgrim Christian Church on the Square, Chardon, OH 44024. Phone: (440) 285-9050. Email: info@chardonchamber.com. Event date and time: Saturday, March 31, 2018 Free Easter Egg Hunt starts on the Square at 11:00 am for children up to 8 years old; Pancake breakfast 8:00 am to 11:00 am, Cost: $8 for adults and $6 for children. Includes a picture with the Easter Bunny! Please bring your own basket. Directly following the Easter Egg Hunt, pictures will be available with the Easter Bunny for $5. Admission: Pancake Breakfast: $8/adults $6/children; Easter Egg Hunt is free!
Middlefield Children's Egg Hunt - Easter Egg Hunt
Jordak Elementary School, 16000 East High Street, Middlefield, Ohio 44062. Phone: 440.632.5248. Event date and time: Saturday, March 24, 2018 at 10am. Children 12 and under can come out and hunt for eggs.FREE. There will also be an Middlefield Adult Egg Hunt Adult Egg Hunt on Based on last year's date, it SHOULD be held on Saturday, March 24, 2018 (but be sure to check on their website or call them first as may have changed) at 8:30 pm with over 1,000 eggs hidden in a larger area in the dark, collect more eggs and win more prizes. Look for registration to begin FEBRUARY 1, 2016. Adult Event Date: $10 - 21 AND OLDER.
Sunrise Farm Market - Easter Egg Hunt, self-guided tour of 1895 steam powered cider mill
P.O. Box 204, 13115 Kinsman Road, Burton, OH 44021. Phone: 440-834-1298. Fax: 440-834-0902. Event date and time: Check on their website or call them - it just says "April" right now, Easter egg hunt at 11 am sharp. Easter Eggstravaganza. Calling all children ten and under in celebrating Easter at our annual Easter Eggstravaganza. Under layers of fresh straw children will enjoy searching for colorful Easter eggs in our Glasshouse Pavilion. Adults will enjoy the market filled with beautiful Spring home decor and of course lots of delicious Easter candies and beautiful Easter baskets. Open 10 am to 5pm.. Click here for a link to our Facebook page.
Huron County
Lake County
Lake County YMCA - Easter Egg Hunt
YMCA, 4540 River Road, Perry, OH 44081. Phone: 440-259-2724.Event date and time: Saturday, March 24, 2018 from 2 pm to 4 pm. Children and their families are invited to join the Lake County YMCA for a special Easter egg huntGather up your family and friends to experience our holiday adventure. Search for hundreds of eggs hidden all over our fields, enjoy making a craft together and meet
the Easter Bunny. Bring your camera!
• Ages 9 and under
• $5 per child
• Proceeds help the Outdoor Y provide membership and program assistance for families in need. - call Kathy Steinmetz at 440-259-2724 or visit www.lakecountyymca.org .
Painesville Easter Bunny Breakfast & Egg Hunt - Easter Bunny Breakfast and Easter Egg Hunt
Veteran's Memorial Park, Downtown Painesville, OH 44077. Phone: 440-392-5912. Event date and time: Saturday, March 24, 2018 The Breakfast w/the Bunny is from 8:30 to 9:15am and it's $10 per person (Children under 3 are free with a paid adult), The Easter Egg Hunt is at 10am and it's a free event. Come rain or shine! Age group: 8 years and under. Veteran's Park will be filled with Easter eggs. Call for more information.
Wickliffe Easter Egg Hunt at Coulby Park - Easter Egg Hunt
Church of the North Coast, 30040 Ridge Road, Wickliffe, OH 44092. Phone: (440) 960-1100 for 0. Event date and time: Saturday, March 31, 2018 at 1:30 pm, (RAIN, SLEET OR SNOW). DRESS FOR THE WEATHER. Free event for all area families. Will include egg hunt and displays with fire truck, music, etc. Accommodations made for special needs children. On line registration at www.cnclove.org . BRING A BASKET OR BAG FOR YOUR EGGS. VISIT WITH THE EASTER BUNNY.
Lorain County
Mahoning County
Medina County
Portage County
Fred Fuller Park Annual Children's Easter Egg Hunts And Adult Egg Scramble - Easter Egg Hunt
Fred Fuller Park, 497 Middlebury Road, Kent, OH 44240. Phone: (330) 673-8897.Event date and time: Children's egg hunt is on Saturday, March 31, 2018 at 12:45 pm. The Adult Egg Scramble is Friday (the day before) at 8:30 pm.


Children's egg hunt: Free Event; Saturday No Registration Required!


The Easter Bunny arrives on a firetruck at 12:45pm to kick off our annual Easter Egg Hunt! Over 5,000 eggs for your little one to discover. Ages 9 and under are welcome! Some eggs contain numbers and can be redeemed for a prize. Pick up your prize in the Roy Smith Shelter House located in Fred Fuller Park. Bring a basket and dress for the weather. We will have 4 age groups:
Toddlers with parent
3 & 4 yr olds
5 & 6 yr olds
7, 8 & 9 yr olds


For the Adult egg hunt on Friday


This popular adult egg hunt scatters over 5,000 eggs throughout Fred Fuller Park! Bring a flashlight and bag to collect your eggs, prizes and candy in the dark. Join the party for a chance to find winning eggs with over 4,000 in prizes; including: Big Screen TVs, Bikes and Kayaks, and CA$H in the golden eggs!
Must be 18 or older.
2 ways to register-
1. online at www.kentparksandrec.com and on the right side of the page click online regisration
2. register in person at the Kent Parks and Rec Office 497 Middlebury Rd, Kent, Ohio 44240.
Streetsboro City Hall - Easter Egg Hunt
City Park, 9184 Ohio 43, Streetsboro, OH 44241. Event date and time: Saturday, March 24, 2018 at 10:30 am to 11:30am. Rain, hail, sleet or snow! A scavenger hunt for eggs filled with candy and prizes! Bring your camera; the Easter Bunny will be available for photographs! The Parks and Recreation Department will provide donuts beginning at 10:30am (while supplies last). Egg Hunt beings at: 11am (ages 0-2), 11:10am (ages 3-5), 11:20am (ages 6-8). Fee: FREE!
Stark County
Summit County
Trumbull County
Wayne County
Grace Church Helicopter Easter Egg Drop - helicopter easter egg hunt
Grace Church, 4599-A Burbank Road, Wooster, OH 44691. Event date and time: Saturday, March 24, 2018 ; Join us at 10:00. Our Helicopter Easter Egg Drop. Grace Kids is excited to host The Helicopter Easter Egg Drop on the church lawn. Kids 10 and under will love the hundreds of eggs that rain from the sky as our Grace Kids Chopper flies overhead. Last time, we celebrated with 75,000 eggs, this year we have 100,000 eggs! Bring your own basket and join the fun! 100,000 EGGS falling from our Grace Kids Chopper. FREE LERCH'S DONUT for every kid 10 and under. SENSORY SENSITIVE FIELD for kids with special needs