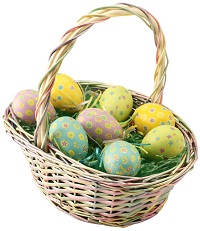 Looking for a local Easter egg hunt for your children? Or an Easter parage, Easter brunch or breakfast or other Easter events in Austin area of Texas? Scroll down this page and you will see all of thoses in Austin area of Texas, sorted by county. ALWAYS call before you go to confirm the info, they don't always report changes to me!
If you know of one we missed and want to add it or correct the information, please let me know!
Updates for April 2018
April: Easter Sunday will April 21, 2019, If you plan to hold an Easter egg hunt, add or update your information as soon as you can. In 2018 most Easter egg hunts were held on either Saturday, March 24, 2018 or Saturday, March 31, 2018. ALWAYS click the links to check date and time with the event's own website, as there are often last minute changes due to weather or logistical problems, just click on the link to the event's website and (in most cases), you want to click on the "events" link or "calendar" link on their website. Or use their site search for "Easter". Do let them know you found them here, so they will update us next year. Since many egg hunts do not publish the current year's dates until the very last minute, we may not get their current information, which is why we have links to their websites, facebook pages and calendars. See their events calendar. There are also Easter breakfasts and brunches and Easter parades to watch!
RELATED:
You may also want to
go to a local farm to
Pick Your Own fruit and vegetables
; strawberries start very soon in most areas!
And if you are looking for local
children's consignment sales, also often held by churches in the Spring and Fall, click here
!
Easter Egg Hunt, Parade and Event Listings
Click on Resources above, if you need a county map
Bell County
Blanco County
Burleson County
Burnet County
Caldwell County
Coryell County
Falls County
Fayette County
Hays County
Eikon Church Easter Egg Drop Extravaganza - Helicopter Easter egg drop, Easter egg hunt
San Marcos High School, 2601 E McCarty Ln, San Marcos, TX 78666. Phone: 512-298-2013. Email: info@eikonchurch.com. Event date and time: Based on last year's date, it SHOULD be held on Saturday, March 24, 2018 (but be sure to check on their website or call them first as may have changed) from 11:00 AM to 1pm. You're invited to a FREE Easter Celebration for the entire family! Voted Best of Hays Community Event, the Easter Egg Drop Extravaganza is back! You're invited to a FREE Easter Celebration for the entire family! On Saturday, April 8th from 11-1pm at the San Marcos High School we'll be hosting the largest Easter egg hunt the San Marcos area has ever seen. 75,000 eggs will be dropped from a helicopter in a designated zone for the kids. There will be multiple drops for different age groups as well as a specific area just for toddlers and for those with sensory sensitivity. The first helicopter drop will be happening around 11:30am, so be sure to come early! In addition to the Easter Egg Hunt, there will be fun activities for the entire family. There will be inflatables, face painting, photo booths, and even a live DJ. The Easter Bunny will be on hand to take pictures with children.
We hope to see you there!
Kylie Easter Eggstravaganza - Easter egg hunt
Gregg-Clarke Park, 1100 W. Center St., Kyle, TX 78640. Event date and time: Wednesday, March 23, 2016 from 5 pm to 8 pm. We will have free carnival games, inflatables, food vendors, age-specific egg hunts, and the Easter Bunny will be on-site for pictures! Age-Specific Egg Hunts: 6:00pm ages 0-3yrs, ​6:15pm ages 4-6yrs, 6:30pm ages 7-9yrs, 6:45pm ages 10-14yrs.

Lampasas County
Lee County
Limestone County
McLennan County
Milam County
Robertson County
Travis County
Williamson County
Brushy Creek District Egg Hunt - Easter egg hunt
Cat Hollow Park, 8600 O'Connor Dr, Austin, TX 78717. Phone: (512) 255-7871 x 218. Email: f.curtis@bcmud.org. Event date and time: Saturday, March 24, 2018 from 10am TO 12 pm. The District invites everyone to the Annual Egg Hunt at Cat Hollow Park. Hunt eggs with delicious candy inside. Age-specific egg hunt groups will start promtly on time so don't be late! Arrive early to locate your child's hunt area! Please note these important reminders for this year's Egg Hunt: -Arrive early to find your child's hunting area, see hunt times below. Only 1 parent per child allowed in the hunting area. Please only 10 eggs per child; Once your child has 10 eggs, please exit the hunting are and exchange empty eggs for a goody bag! Eggs filled with prizes/candy are theirs to keep! There are 2 golden eggs in each egg hunt. If your child finds a golden egg, please bring it to the information table to exchange for a prize basket! After your child's egg hunt, join us for the festival until 12:00pm: cotton candy will be sold for an additional fee, cash only! Age Group Egg Hunt Times: 0-2 years starts at 10 am; 3-4 years starts at 10:15 am; 5-6 years starts at 10:30 am; 7 and up starts at 10:45am. FREE Activities. Pictures with the Bunny (bring your own camera). Petting Zoo, Pony Rides, Face Painting, Cartoon Art, Egg Decorating, Music, Game Stations, Popcorn, *Cotton Candy will be available for a small fee. For any questions contact Farren Curtis.
Cedar Park Spring Egg-Stravaganza - Easter egg hunt
Elizabeth Milburn Park, 1901 Sun Chase Blvd., Cedar Park, TX. Phone: (512) 401-5528. Email: samantha.roos@cedarparktexas.gov. Event date and time: Palm Sunday, March 25, 2018 at 2:00 pm. Free to the public. Bring your basket to hunt for over 79,000 pieces of candy, prizes and goodies. Take your photo with the bunny until 2:45 pm (bring your own camera). Enjoy jumping in the inflatable and train rides. There will also be face painting for a fee. The egg hunt is for ages 12 and under.
Round Rock Flashlight Easter Egg Hunt and Movie in the Park - Flashlight Easter egg hunt
Lakeview Pavillion, Old Settlers Park, 3300 E Palm Valley Blvd, Round Rock, TX 78665X. Phone: 512-218-5540. Event date and time: Thursday, March 29, 2018, First hunt starts at 7:15 PM. Bring your flashlight to find eggs filled with candy and prizes at Old Settlers Park in this fun hunt for ages 3 and up. Please arrive 30 minutes early for your hunt. (Cash and check only) The Round Rock Parks and Recreation Department presents the annual Flashlight Easter Egg Hunt and Movies in the Park featuring Guardians of the Galaxy. The sun has set and the moon shines bright; Join us for an egg hunt in the night. A treat filled hunt ring waits for you; Eggs, Candy, Prizes and lots of fun too! Bring your flashlight and a basket to fill; It's so exciting you can't sit still! A few special prize eggs colored bright gold; Redeem it for a prize basket that you now hold! We encourage fair play and friendliness too; So please hunt nicely, it's the right thing to do! You won't want to miss so join in on the fun; Stay for a movie when the hunt is done! Please arrive at the Lake View Pavilion and Festival area in Old Settlers Park 30 minutes before your hunt time to check in. Based on set age categories, Parents may choose which hunt they wish their Flashlight Egg Hunter to participate in, you know your child best; please choose the hunt most appropriate for them.
Arrive at least 30 minutes prior to your hunt time to check in.
7:00 p.m. Twilight Egg Hunt. Ages 0-4 years. Not quite as dark for our youngest hunters. Only one parent will be allowed in the hunt ring to assist. Parent must stay with hunter at all times.
8:00 p.m. Flashlight Parent Assisted Hunt #1. Ages 5 years and older. Only one parent will be allowed in the hunt ring to assist.
Recommended for our younger hunters. Parent must stay with hunter at all times.
8:30 p.m. Flashlight Parent Assisted Hunt #2. Ages 5 years and older. Only one parent will be allowed in the hunt ring to assist. Recommended for our younger hunters. Parent must stay with hunter at all times.
9:00 p.m. Flashlight Children Only Hunt. No parents allowed in the hunt ring. Recommended for our older hunters.
9:15 p.m. Movie in the Park featuring the family movie Fedinand
Registration
Register online at Roundrock Recreation registration
There will be no event day registration. Tickets are PRESALE and sell out quickly. NO ONSITE OR EVENT DAY REGISTRATION ALLOWED.

&