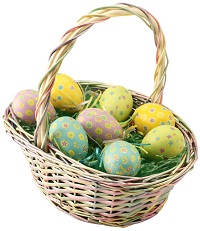 Looking for a local Easter egg hunt for your children? Or an Easter parage, Easter brunch or breakfast or other Easter events in Central Virginia (Charlottesville, Staunton, Albemarle area)? Scroll down this page and you will see all of thoses in Central Virginia (Charlottesville, Staunton, Albemarle area), sorted by county. ALWAYS call before you go to confirm the info, they don't always report changes to me!
If you know of one we missed and want to add it or correct the information, please let me know!
Updates for February 2019
February: Easter Sunday will be April 21, 2019, If you plan to hold an Easter egg hunt, add or update your information as soon as you can. In 2018 most Easter egg hunts were held on either Saturday, March 24, 2018 or Saturday, March 31, 2018. ALWAYS click the links to check date and time with the event's own website, as there are often last minute changes due to weather or logistical problems, just click on the link to the event's website and (in most cases), you want to click on the "events" link or "calendar" link on their website. Or use their site search for "Easter". Do let them know you found them here, so they will update us next year. Since many egg hunts do not publish the current year's dates until the very last minute, we may not get their current information, which is why we have links to their websites, facebook pages and calendars. See their events calendar. There are also Easter breakfasts and brunches and Easter parades to watch!
RELATED:
You may also want to
go to a local farm to
Pick Your Own fruit and vegetables
; strawberries start very soon in most areas!
And if you are looking for local
children's consignment sales, also often held by churches in the Spring and Fall, click here
!
Easter Egg Hunt, Parade and Event Listings
Click on Resources above, if you need a county map
Albemarle County
Carter Mountain Orchard Annual Easter Egg Hunt - Easter egg hunt, Visits with the Easter Bunny, Hayrides, Face Painting, Wine Tasting Available, Light fare lunch, gift shop, restrooms, picnic area, birthday parties, weddings and wedding parties, school tours
1435 Carters Mountain Trail, Charlottesville, VA 22901. Phone: 434-977-1833. Alternate Phone: 434-977-0619. Fax: 434-979-0341. Email: Info@CarterMountainOrchard.com. Event date and time: Saturday, March 31, 2018. Click here for current open hours, days and dates. Directions: Click here for a map and directions. Kids ages 3-8 - Time for candy and fun!Easter Egg Hunt Schedule:Easter egg hunt at Carter Mountain Orchard. (ALL HUNTS WILL START PROMPTLY AT THE DESIGNATED TIMES)
10:30AM "Chickadee" Easter Egg Hunt for children 2 and under, plus special needs children (150 children max)
11:30AM Easter Egg Hunt for 3-4 year old children (200 children max)
12:30PM Easter Egg Hunt for 5-8 year old children (200 children max)
1:30PM Easter Agility Challenge for 9-12 year old children (100 children max)
1:00PM and 3:00PM "Never Grow Up" Easter Egg Hunt - an Adult-Only Easter Egg Hunt, sponsored by Prince Michel Winery and Bold Rock Hard Cider! Must be 21 or older to participate.
Online registration for the children's egg hunts will begin March 15th You may also buy tickets on site on the day of, up to 15 minutes prior to the beginning of the hunt or until sold out, whichever comes first. Please note, there are no refunds, unless Carter Mountain cancels the event due to extreme conditions.rafts - FREE, no charge! Visits with Easter Bunny - FREE, no charge! Open 10AM - 5PM.
Amherst County
Appomattox County
Buckingham County
Charlottesville (City of)
Charlottesville High School Eggstravaganza - Easter egg hunt
1400 Melbourne Road, Charlottesville, VA 22901. Phone: (434) 970-3260. Event date and time: Saturday, March 24, 2018 STARTS PROMPTLY AT 10AM! Ages 12 and under will be divided on fields by ages (1-3), (4-7), and (8-12).Join us for a fun-filled egg hunt.
Dogwood Eggstravanganza - Easter egg hunr
Fairview Swim & Tennis Club, 707 Belvedere Boulevard, Charlottesville, VA 22901. Email: info@charlottesvilledogwoodfestival.org. Event date and time: Saturday, March 31, 2018 at 2 pm. This is a free event for the family and we will be accepting donations for the Charlottesville Albemarle SPCA. The Egg hunt will begin at 2:00 pm. Children will be separated into age groups. There will also be an Easter bonnet parade & contest at 2:30 pm. There will also be...
-Bounce houses
-MR. Magic balloon art
-Petting zoo and ponies
-Firetruck
-Children's finger printing
Food & Beverages available for purchase
The Shops at Stonefield / CharlottesvilleFamily Eggstravagandza - Easter egg hunt
The Shops at Stonefield, Route 29 & Hydraulic Rd, Charlottesville, VA 22901. Event date and time: Saturday, March 31, 2018 from11 am to 1 pm. FREE. Hunt for 25,000 eggs, pin the tail on the bunny and enjoy music by Kim and Jimbo Cary and face painting. Adults can also join in the fun and hunt for golden eggs with gift cards in the shops. CharlottesvilleFamily is a proud sponsor! The Shops at Stonefield. All ages welcome. Petting Zoo and Free Activities for the Whole Family.
Fluvanna County
Greene County
Louisa County
Lynchburg (City of)
Point of Honor - Easter egg hunt
112 Cabell St Lynchburg, VA, 24504. Phone: 434-455-6226. Email: museum@lynchburgva.gov. Event date and time: Saturday, March 31, 2018 from 10 am to 2 pm. Egg Hunt on the Lawn at Point of Honor . Join the free festivities presented by Lynchburg Parks and Recreation and Point of Honor! Hunt for colorful eggs, decorate cookies, and have your picture taken with the Easter Bunny! Egg hunt schedule is as follows:
10:30am for children ages 4 and under
11:15am for children ages 5 - 6
12:00pm for children ages 7 - 8
1pm for 9 - 10 year olds
All egg hunts will be in the back yard at the orchard. Bring a picnic blanket and a lunch to enjoy the views from Point of Honor's front lawn. Local celebrities will read stories under the large oak in the front lawn at 11:00am, 11:45am, and 1:15pm. Throughout the day the Easter Bunny will appear in costume, and activities include traditional games like egg roll races, cornhole, hopscotch, graces (ring toss game), rolling hoop game, sack races, face painting, and cookie decorating.
Madison County
DuCard Vineyards - Easter egg hunt
40 Gibson Hollow Lane, Etlan, VA 22719. Phone: 540-923-4206. Event date and time: Saturday, March 31, 2018 from 12 pm to 5 pm. What would Easter be without an Easter Egg hunt? Or maybe a visit by the Easter Bunny? We'll have that and more along with live music by the acoustic duo Haze & Dacey Haze & Dacey as they play a variety of folk, alt-country, roots-rock, country-blues, and a hint of jazz and swing (http://www.hazyshadeproductions.com/duo). You'll be sure to find treats both inside and out, but just don't get any egg on your face! Speaking of treats- we'll have lots of goodies for sale to eat by Sweet Treats so save some room for that! This family event is guaranteed to be fun for all ages! Easter Egg Hunt starts at 1:00pm. No cover.
Nelson County
Wintergreen Resort Easter Egg Hunt and Events - Easter egg hunt
Route 664, Wintergreen, VA 22958. Phone: 434-325-2200. Event date and time: Friday, Saturday, and Easter Sunday , with the hunt on Sunday.


Saturday, :


10-6 pm Discovery Ridge Adventure Center Open;
1-4 pm Easter Eggstravaganza
There will be egg decorating, Easter cookie decorating and five crafts: bunny picture frames, Easter bonnet or top hat, springtime ice cream sugar cones, squirt gun spring paintings, and goldfish carrots. Come out with your families and enjoy this afternoon of egg-citing fun! Cost: $29 per person includes egg decorating, cookie decorating and all five crafts. Reservations required, call 434-325-8180.
4 pm Peep Roast
Do not miss out on Wintergreen's newest tradition! At the Discovery Ridge Adventure Center Fire Pit; complimentary


Easter Sunday,


9 am Easter Worship Service
Robert Mansfield Jr. (Ballroom)
9:50 am Easter Bonnet Parade
Immediately following the worship service (about 9:50 am), come wear your newly made bonnet/top hat and join in our parade. Show off your bonnet/top hat and get judged on the finished product. Prizes to be awarded for Most Creative and Most Unusual Easter Bonnet/Top hat.
10:15 am Egg Hunt
Following the fun filled bonnet/top hat parade will be the egg hunt! Come test your egg finding abilities, and find eggs full of fun! There will be prizes for golden eggs, the jelly bean guess and Haiku contest will be awarded on the Blue Ridge Terrace immediately following the conclusion of the egg hunt.
Children 5 and Under: 10:15am Egg Hunt start time
Children Ages 6-8: 10:15 am Egg Hunt start time
Children 8 and older: 10:17am Egg Hunt start time.
Orange County
Spotsylvania County
Lake Anna State Park Easter Eggstravaganza & Scavenger Hunt - scavenger hunt
6800 Lawyers Rd., Spotsylvania, VA 22551. Phone: 540-854-5503. Email: LakeAnna@dcr.virginia.gov. Event date and time: There is nothing on the park website about it this year call before you go - Based on last year's date, it SHOULD be held on Saturday, March 31, 2018 (but be sure to check on their website or call them first as may have changed) from 10:30 am to 12 pm. Join us on a scavenger hunt to see what the Easter Bunny may have left as he hopped through the woods here at Lake Anna State Park! We'll explore the differences between a wild Cottontail Rabbit & a domestic pet bunny. After the scavenger hunt, be sure to come into the newly renovated Visitor Center to make a neat craft to take home and of course, claim your prize for completing the scavenger hunt! The fun & candy abound where Nature meets Technology! Free!