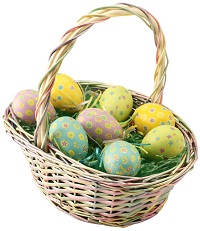 Looking for a local Easter egg hunt for your children? Or an Easter parage, Easter brunch or breakfast or other Easter events in the Capital area of New York? Scroll down this page and you will see all of thoses in the Capital area of New York, sorted by county. ALWAYS call before you go to confirm the info, they don't always report changes to me!
If you know of one we missed and want to add it or correct the information, please let me know!
Updates for February 2019
February: Easter Sunday will be April 21, 2019, If you plan to hold an Easter egg hunt, add or update your information as soon as you can. In 2018 most Easter egg hunts were held on either Saturday, March 24, 2018 or Saturday, March 31, 2018. ALWAYS click the links to check date and time with the event's own website, as there are often last minute changes due to weather or logistical problems, just click on the link to the event's website and (in most cases), you want to click on the "events" link or "calendar" link on their website. Or use their site search for "Easter". Do let them know you found them here, so they will update us next year. Since many egg hunts do not publish the current year's dates until the very last minute, we may not get their current information, which is why we have links to their websites, facebook pages and calendars. See their events calendar. There are also Easter breakfasts and brunches and Easter parades to watch!
RELATED:
You may also want to
go to a local farm to
Pick Your Own fruit and vegetables
; strawberries start very soon in most areas!
And if you are looking for local
children's consignment sales, also often held by churches in the Spring and Fall, click here
!
Easter Egg Hunt, Parade and Event Listings
Click on Resources above, if you need a county map
Albany County
Afrim's Sports Annual Easter Egg Hunt - Easter egg hunt
Afrims Sports, 636 Albany Shaker Rd Albany, NY. Phone: 518-438-3131. Email: afrimsports@gmail.com. Event date and time: Saturday, March 31, 2018 from 9 am to 3:00 PM. Cost: $10/child. 5 Different Hunting Times from 10:30 am to 2:30 pm. Spaces Are Limited. Goody bag for everyone who participates in the egg hunt PLUS you get to keep 2 of your favorite eggs. Also face painting. The event begins at 9am with the first egg hunt time at 9:45am! Easter themed Activities and balloon fun with Mr. Twisty! Pre-Register at any time by calling us at 518-438-3131 or by clicking HERE!
Calvary United Methodist Church Latham NY - Easter egg hunt
15 Ridge Place, Latham, NY 12110. Phone: 518-785-5142. Email: calvaryumclatham@gmail.com. Event date and time: Saturday, March 31, 2018 at 10 am.
Cohoes Annual Easter Egg Hunt - Easter egg hunt
George Street & Lancaster Street, Cohoes, NY, 12047. Phone: 518.233.2119. Email: none@gmail.com. Event date and time: Saturday, March 24, 2018 at 10 am. For ages 1 to 12. Free.
New Covenant Nursery School - Easter egg hunt
916 Western Avenue, Albany, NY, 12203. Phone: 518-482-8063. Email: ncovenantinfo@nycap.rr.com. Event date and time: March 29, 2018 from 10 am to 12 pm. Price: FREE.
Rensselaer County
Brunswick Community Library - Easter egg hunts for children, Easter egg hunts for infant, Easter egg hunts for toddlers, Easter egg hunts for all ages (includes adults), The Easter bunny will make an appearance, Visits and photos with the Easter Rabbit, Held indoors in bad weather, FREE admission, Children's crafts, Children's music and storytelling, Other activities for children, Bring a basket to collect the eggs!, Farm animals are present,
4118 State Highway 2, Troy, NY 12189. Phone: 518-279-4023. Email: director@brunswicklibrary.org. Event date and time: Saturday, March 31, 2018 at 10:30 am. Open: Click here for current open hours, days and dates. Directions: Click here for a map and directions. Payment: Free - no payments needed for anything. Click here for our Facebook page. Rescue goat may make an appearance!.
East Greenbush - Easter egg hunt
225 Columbia Trnpk, Rensselaer, NY, 12144. Phone: 518-477-4194. Email: notavailable@yahoo.com.Event date and time: Saturday, March 24, 2018 at 10, 10:30, & 11 am depending on age group. For ages 2 to 12. Free for residents.
Saratoga County
Schenectady County
CityReach Church Schenectady - Helicopter Easter Egg Drop
Schenectady Armory Center, 125 Washington Ave, Schenectady, New York 12305. Phone: (518) 703-5052. Email: schenectady@cityreachnetwork.org

.

Event date and time: Saturday, March 31, 2018 from 12:30 pm to 3 PM.
Imagine.....An Easter egg hunt, the Texas Roadhouse Armadillo mascot, DJ dance party, bounce houses, food truck, 3 gold balloon prize giveaways, party balloons falling from the ceiling, and extra candy for everyone all under one roof....we'll it's happening. March 31st at the Schenectady Armory. This is going to be a great experience for you child and since Easter is early this year, we're taking things inside! For safety reasons, kids are divided up into age groups - this is why the registration form must be completed in advance and in its entirety. Because of the extremely high demand for participation, admission is limited. Once the total registration is complete, the event is closed.
Ages : 2-10
Check in : 12:30pm
Egg Hunt: 1:30pm
Prizes immediately following the hunt
Family Fun Time until 3:00pm

St. George's Episcopal Church - Easter egg hunt
St. George's Episcopal Church, 30 N. Ferry St. Schenectady, NY 12305. Email: stgeorgesschenectady@gmail.com. Event date and time: Saturday, March 31, 2018 from 10:30 AM to 12:00 PM . FREE ADMISSION. Egg hunt (indoors if bad weather), followed by a party with crafts, snacks, a nursery for babies, and fun for all! For ages 0-8 and their caregivers. Simple Egg Hunt at 10:30am. Snacks and crafts 10:40-12:00. *Hunt will be indoors in inclement weather*.
Schoharie County
Warren County
Glens Falls Civic Center Easter Egg-stravaganza - Easter egg hunt
Cool Insuring Arena, 1 Civic Center Plaza Glens Falls, NY 12801. Event date and time: Easter Sunday, April 1, 2018 at 10 AM. Vantage Pointe Church sponsors it. Cost: FREE ADMISSION. 3rd Annual Egg Hunt. Vantage Pointe Church has become known for its commitment to serving the people of the Glens Falls Region with fun and meaningful events in the community. They're excited to announce the third annual Easter Celebration with Egg Hunt on the ice surface at the Cool Insuring Arena for kids through Grade 5. Contemporary music and media. 30,000+ Easter eggs, Fun, prizes, and more! Registration is Required
Washington County