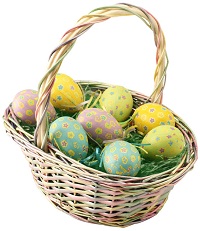 If you missed taking your kids and it's Easter Sunday afternoon; all is not lost:
Plan B: Hold your own hunt next weekend!
Here's how!
OK, you missed taking your kids to an Easter egg hunt and your kiddos are upset. Not to worry: you can hold your own, and trust me, the kids will be equally happy. And if you have friends or neighbors who also missed an Easter egg hunts, you can combine forces and have a multi-family egg hunt at one neighbor's yard or at a local park. Here's how to do it:
Talk to your friends and neighbors, see if any will join with you, a bigger group will be more fun for the children!
Set the date and time
The next weekend is probably your best bet. Check the weather forecast and sync with any other families who are joining. Saturday mornings are usually good.
Location / venue
Make sure the selected venue suits the number and age of participants. If it is just your family, your yard will be fine, or you could do a local park or school yard. Easter egg hunts are usually held outdoors, but you will need to have a backup plan in case the weather does not cooperate. Schools, public parks, churches and large grassy areas attached to shopping malls are often used. Of course, if it is a private property, or other area not usually open to the public, you will need to obtain permission, along with any conditions of use, from someone in a position of authority at the property. Get that agreed as soon as possible.
If you are hosting a neighborhood egg hunt, you may want to spread the hunt over several adjacent yards, or use a nearby park or common. If your hunt will be indoors, be sure to spread the hunt over several rooms and consider safety.

Gather supplies:
You'll need the empty plastic eggs and candy! Get them Easter Sunday or Monday when they are on sale at WalMart. Or online, see below:
And area marking tape, it's cheap, just about $2, to mark off the area, see at right:
Music, like a Bluetooth speaker can add to the fun!
If you REALLY want to go all-out, you can rent an inflatable or two. Just Google, click here for "local inflatable rentals"
Fill the eggs
Pretty self-explanatory. BUT LOOK BELOW: you can also save time and get them pre-filled with candy or toys!
Day of the event -
Hide the eggs. Or simply scatter them around the lawn. If you are in a public area, keep someone watching over it while the kids arrive!

Have your fun!
Also see Easter gift baskets, filled with chocolate and candies