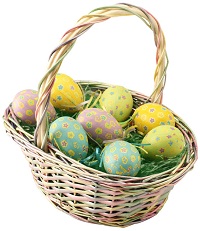 Looking for a local Easter egg hunt for your children? Or an Easter parage, Easter brunch or breakfast or other Easter events in Hampshire England? Scroll down this page and you will see all of thoses in Hampshire England, sorted by county. ALWAYS either see their website or call before you go to confirm the info, there are often last minute changes which they do not report to us!
If you know of one we missed and want to add it or correct the information, please let me know! There are affiliate links on this page. Read our disclosure policy to learn more. There are affiliate links on this page. Read our disclosure policy to learn more.
Updates for January 2021
Due to concerns about Coronavirus, many Easter egg hunts are being cancelled for 2020. As we get updates, we are revising them here. ALWAYS confirm directly with the sponsor (we provide links to their websites, email and phone numbers) to ensure they are still holding the event, as the situation is changing rapidly. A few are having drive-in Egg Hunts, most are simply canceling in 2020 to return in 2021, and holding an online service this year.
Easter Sunday will be April 12, 2020. Most Easter egg hunts are being held on the Saturday a week before Easter, or the day before Easter Sunday. ALWAYS click the links to check date and time with the event's own website, as there are often last minute cancellations, postponements or changes to locations due to weather (like heavy rains in the northeast) or logistical problems, just click on the link to the event's website and (in most cases), you want to click on the "events" link or "calendar" link on their website. Or use their site search for "Easter". Do let them know you found them here, so they will update us next year. Since many egg hunts do not publish the current year's dates until the very last minute, or simply never respond to email, we may not get their current information, which is why we have links to their websites, facebook pages and calendars. Besides egg hunts, there are also Easter breakfasts and brunches and Easter parades to watch!
If you need to add your egg hunt or update your existing information, click on these links.
RELATED:
You may also want to
go to a local farm to
Pick Your Own fruit and vegetables
; strawberries start very soon in most areas! Farms will be open, and it's quite safe out in a field, where people are not close to each othger!
And if you are looking for local
children's consignment sales, also often held by churches in the Spring and Fall, click here
!
Easter Egg Hunt, Parade and Event Listings
Click on Resources above, if you need a county map
Hampshire
Bere Forest Easter Egg Hunt - Easter egg hunt, Easter trail, restrooms, concession stand (drinks, snacks and/or food)
Westwalk, Hundred Acres Road, 100 Acres Forest, Fareham, Hampshire PO17 6JD. Email:

[email protected]

. Event date and time: Wednesday 8th April 2020, from from 10am - 4pm (Last admission 3.30pm). Event date and time: Wednesday 8th April 2020, at from 10am - 4pm (Last admission 3.30pm). Directions: Click here for a map and directions. Payment: Cash, only. Friends of Newtown Soberton Infant School (FONS) proudly presents the Forest of Bere Easter Egg Hunt. This event has start points at Westwalk, 100 Acres Wood Admission is £3.50 per child, it is worthy of note there is no cash point at this location. Pre-Sale tickets for the afternoon are available to purchase via Newtown Soberton School Office, Church Road, PO17 6LJ. Pre-sale tickets guarantee chocolate eggs being available later in the day and has it's own dedicated queuing system for those who have pre-purchased tickets. (Pre-sale tickets must be presented on the day & are non-refundable). Follow the trail around the woods, find the clues to solve the puzzle. Upon completion hand over your map to receive your chocolate egg (1 egg per map purchased). The site has W/C and picnic areas, refreshments including a BBQ are available to purchase on the day. There will be a one way traffic system along Hundred Acres Road (PO17 6JD), entrance from B2177. This to allow for over spill parking along the edge of the road. All money raised from this event goes to Newtown Soberton Infant School and Early Birds Pre-School. The event is ran by volunteers, if you are interested in becoming a volunteer please contact us for further information. Click here for our Facebook page. . (UPDATED: March 11, 2020)
Portsmouth Historic Dockyard - Easter egg trail
Portsmouth Historic Dockyard Visitor Centre, Victory Gate, HM Naval Base, Portsmouth, PO1 3LJ. Phone: 02392 728060. Email:

[email protected]

. Event date and time: 6 April 2019 through Easter Monday. Self guided Easter Trail across all of the attractions at Portsmouth Historic Dockyard. The Easter Bunny has hopped all over Portsmouth Historic Dockyard leaving a trail of Eastery mischief behind him. Help solve the nautical themed questions to discover the answers and receive a small prize for your Easter Egg Detective work in each venue. Once all the clues are answered in every attraction a hidden keyword will reveal itself. Submit the answer via email or post for your chance to win a fantastic prize! FREE with a valid ticket (Children must be accompanied by an adult) Go at your own pace with the self-guided Easter Trail - the Easter Bunny has hopped all over the dockyard leaving a trail of Eastery mischief behind him. Help solve the nautical themed Easter clues to find the hidden Easter Bunny illustration and receive a small prize for your Easter egg detective work in each venue.
Highclere Castle - Easter Egg Hunt at
Highclere Castle, Highclere Park, Newbury, RG20 9RN. Phone: 01635 253210. Email:

[email protected]

. Event date and time: 6 April 2019 through Easter Monday. We are delighted to announce that our Easter Trail will be in aid of the Murray Parish Trust. Join us on Easter Sunday and we hope you will all enjoy following a trail through Highclere's gardens and woodland, finding clues en route. At the end, each child will win an Easter Egg! We would very much welcome children to take part in our Easter Bonnet parade and hope that the children will enjoy a bouncy castle and other games on the lawns, weather permitting. We ask you kindly to pre-book adult tickets this year and tell us how many children you are bringing, so that we can stock up on Easter Eggs! The adult garden ticket is £7 per person which gives access to the Easter Egg Hunt, Gardens and Grounds, Tea Rooms and Gift Shop. We ask each child give a donation to our chosen charities on the day (suggested donation £5) when they collect their map for the Easter Trail on arrival. Entry to the Easter Bonnet parade is free with prizes awarded for lots of wonderful bonnets, which will take place at 1:30pm.
The Easter Egg Trail will run from 11am until 3pm.
The Easter Bonnet Parade will take place at 1.30pm.
If you wish to visit the Castle or Egyptian Exhibition, you are welcome to upgrade on the day, subject to availability. Our "Afternoon Tea at the Coach House" is not available with this event ticket. However, our normal Tea Rooms will be open from 9:30am until 5pm, serving light lunches, snacks, cakes and scones, whilst hot dinners are also served between 12noon and 2pm. We look forward to welcoming you all. To purchase tickets for the Easter Egg Hunt, please click on the required date in the date selector on their website and follow the on-screen instructions.
St. James' Park Easter Eggstravorganza - Easter trail
St.James' Road, Southampton, SO15 5SD. Phone: +44 23 8077 9763. Email:

[email protected]

. Event date and time: Easter Monday, from 12 pm to 4 pm. Hosted by Friends of St. James' Park. Everyone welcome to our annual Easter event and Family Fun Day with Organ Music and Fun Fair style rides. BBQ by our Parklife Cafe, Easter Quiz and stalls (Charity and Businesses), including lots of stalls from Robins Nest Emporium Southampton, Bouncy castles by Blake Entertainment and more! ParkLives Southampton will provide FREE Nerf Warz between 12-2pm! My Journey will be bringing the Get Cycle Savvy Pit stop (Including Bike doc, Try a bike, and YoBike information). Don't forget in the lead up to the Easter Monday you can do the Easter Quiz trail and win prizes from the cafe! We can't wait to see you at St. James' Park!

Isle of Wight
None found here yet.
For more information, see the menu bar at the top of the page: Resources and Related Websites
Easter Egg Hunt, Parade and Event Listings