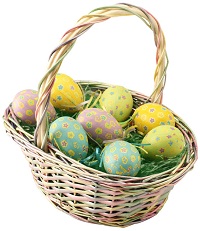 For One or Two Minor Corrections, Deletions and Updates to EXISTING Listings
Whether you are the event sponsor / manager, or a visitor or customer, if you want to make one or two minor corrections to any Easter listing, here's the form! The form is designed to make it fast and easy for you to help me update the information, so I can promptly correct it!If you want to offer comments or feedback about a farm, please use the Feedback form.
Event Sponsors / Managers: if you have more than a couple corrections or want to rewrite your listing, use this form instead.
Please don't type in ALL CAPITALS! It's really hard to read and must be manually retyped!
For more information, see the menu bar at the top of the page: Resources and Related Websites
Easter Egg Hunt, Parade and Event Listings