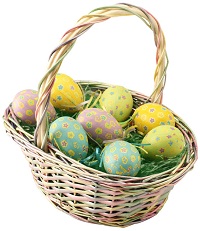 Egg Hunt Staff: Add, Edit, Update, Correct Your Easter Egg Hunt's Information
If your church, school, town, city or other organization holds an Easter egg hunt, Easter Trail, pancake breakfast, photos with the Easter Bunny, Easter parade or other Easter or Spring event, you can add it to the website for free, by filling out the Add form below. Similarly, if a site visitor added your event, you can correct it, edit it, or rewrite it using the forms below.
Add egg hunt or other event
(if it is NOT already on the website)
Be sure to add an email address for the egg hunt so we can send you a reminder with a pre-filled form next year to update it!

Update your listing
Use this to update, re-write or correct an existing listing.

Make minor corrections
If you only have one or two changes, like changing the date or time or contact info, use this. But it is not suited for many changes!

Delete your listing
If the event is no longer being held, use this to delete it.
Note: we automatically add ANY Easter egg hunt that is open to the public and published on the internet,

Search the website by phone, email, city, name, etc.
For more information, see the menu bar at the top of the page: Resources and Related Websites
Easter Egg Hunt, Parade and Event Listings