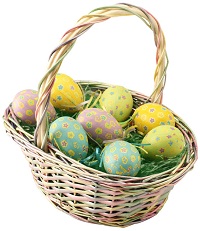 Looking for a local Easter egg hunt for your children? Or an Easter parade, Easter brunch or breakfast or other Easter events in Phoenix and Surrounding Counties in Arizona? Scroll down this page and you will see all of those in Phoenix and Surrounding Counties in Arizona, sorted by county. ALWAYS either see their website or call before you go to confirm the info, there are often last minute changes which they do not report to us! If you have missed the Easter egg hunts in your area (or they were canceled), see this page about how to easily have your own backyard or local park Easter egg hunt.
If you know of one we missed and want to add it or correct the information, please let me know! There are affiliate links on this page. Read our disclosure policy to learn more.
Updates for December 2023
Easter egg hunts are back! I'm updating the info every day. Unfortunately MOST wait until the last minute (often just a few days before) to publish their dates, times and details. I'm updating their information daily as it comes in., but there are thousands yet to check. When we CONFIRM an event for 2023, the date will be highlighted in pink, like this passage to make them easy to find as you scroll down the page. Orange highlights means it was definitely held last year, but we have not yet been able to confirm it for this year.
RELATED: You may also want to go to a local farm to Pick Your Own fruit and vegetables; strawberries start very soon in most areas! Farms will be open, and it's quite safe out in a field, where people are not close to each other!
And if you are looking to save money on children's clothes, toys, books, etc, find a local children's consignment sale, also often held by churches in the Spring and Fall, click here!
ALWAYS click the links to check date and time with the event's own website, as there are often last minute cancellations, postponements or changes to locations due to weather (like heavy rains) or logistical problems, just click on the link to the event's website and (in most cases), you want to click on the "events" link or "calendar" link on their website. Or use their site search for "Easter". Do let them know you found them here, so they will update us next year. Since many egg hunts do not publish the current year's dates until the very last minute, or simply never respond to email, we may not get their current information, which is why we have links to their websites, Facebook pages and calendars. Besides egg hunts, there are also Easter breakfasts and brunches and Easter parades to watch!
If you need to add your egg hunt or update your existing information, click on these links.
Easter Egg Hunt, Parade and Event Listings
Click on Resources above, if you need a county map
Maricopa Easter Egg Hunt - Easter egg hunt, Photos with the Easter Bunny, Inflatables, bounce houses, etc., Games, FREE event, Other activities, restrooms, concession stand (drinks, snacks and/or food)
45295 W Honeycutt Ave, Maricopa, AZ 85139. Phone: (520) 252-5817. Email: info@cohmaricopacom. Event date and time: When we checked last, there was no update for 2023 yet on their website - so CHECK IT AGAIN YOURSELF, it may or may not be held in 2023, if they DO hold it, based on past years, it would likely be on Good Friday, April 7, 2023 , from 6 pm to 9 pm. Directions: Click here for a map and directions. Payment: FREE. Click here for our Facebook page. Maricopa Community of Hope Church. (UPDATED: March 28, 2022)
Verde Canyon RailRoad Easter Bunny Express Train Ride - Easter train ride
300 North Broadway, Clarkdale, AZ 86324. Phone: 800-293-7245. Email: info@verdecanyonrr.com. Event date and time:

Last year's date was Saturday right before Easter Sunday, so check with them - it MAY be held on Saturday, April 8, 2023

. So that everyone will be home to celebrate Easter, the honorable hare will spend his last day off before the big event visiting with everyone at Verde Canyon Railroad. Children of all ages can visit with the Easter Bunny prior to the 3.5 hour journey through the magical wilderness of the Verde Canyon. The Easter Bunny loves giving out handfuls of treats and armloads of hugs before bidding farewell to everyone on the train as it departs at 1 p.m.. Get your photo taken with the Happy Hare and be sure to enter your best guess in our jelly bean contest. The Easter fun keeps going onboard with a presentation of the winner-take-all jellybean counting contest winner by the Rare Rabbit himself. Adults can enjoy a spring-fresh Bloody Mary bursting with so many vegetables a rabbit would love it. Make Your Reservation Now.
For more information, see the menu bar at the top of the page: Resources and Related Websites
Easter Egg Hunt, Parade and Event Listings