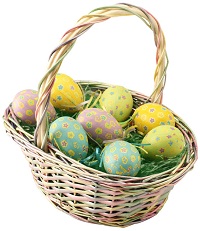 Looking for a local Easter egg hunt for your children? Or an Easter parage, Easter brunch or breakfast or other Easter events in Seminole County, Florida? Scroll down this page and you will see all of thoses in Seminole County, Florida, sorted by county. ALWAYS either see their website or call before you go to confirm the info, there are often last minute changes which they do not report to us!
If you know of one we missed and want to add it or correct the information, please let me know! There are affiliate links on this page. Read our disclosure policy to learn more. There are affiliate links on this page. Read our disclosure policy to learn more.
Updates for February 2021
It looks like egg hunts will be returning in 2021! It's a bit early to know for sure, and some in locked-down states like California, NY, NJ, MI, etc. they may wait until the last minute to make announcements, but with the vaccine being rolled out, and most egg hunts being held outdoors, there little logic in not resuming them. ALWAYS, ALWAYS confirm directly with the sponsor (we provide links to their websites, email and phone numbers) to ensure they are still holding the event, as the situation too fluid, and it is impossible to confirm yet; most of the dates provided are speculative, based on 2019 .
Easter Sunday will be April 4, 2021. Most Easter egg hunts are being held on the Saturday a week before Easter, or the day before Easter Sunday. ALWAYS click the links to check date and time with the event's own website, as there are often last minute cancellations, postponements or changes to locations due to weather (like heavy rains in the northeast) or logistical problems, just click on the link to the event's website and (in most cases), you want to click on the "events" link or "calendar" link on their website. Or use their site search for "Easter". Do let them know you found them here, so they will update us next year. Since many egg hunts do not publish the current year's dates until the very last minute, or simply never respond to email, we may not get their current information, which is why we have links to their websites, Facebook pages and calendars. Besides egg hunts, there are also Easter breakfasts and brunches and Easter parades to watch!
If you need to add your egg hunt or update your existing information, click on these links.
RELATED:
You may also want to
go to a local farm to
Pick Your Own fruit and vegetables
; strawberries start very soon in most areas! Farms will be open, and it's quite safe out in a field, where people are not close to each othger!
And if you are looking for local
children's consignment sales, also often held by churches in the Spring and Fall, click here
!
Easter Egg Hunt, Parade and Event Listings
Click on Resources above, if you need a county map
Seminole County
Green Acres Farm - Easter egg hunt,
1700 Marsh Street, Oviedo, FL 32765. Phone: (407) 489-7430. Email:

[email protected]

. Event date and time: Sunday, March 28, 2021 at 1:00 PM for Easter Egg Hunt: 0 - 6 years old, at 2:00 PM for Easter Egg Hunt: 7 - 12 years old
3:00 PM and Adult Easter Egg Hunt: 21+ years old (ID required). Tickets · $5 - $20. See www.eventbrite.com/e/spring-festival-and-easter-egg-hunt-tickets-140639154497. Directions: located on the outskirts of Oviedo (about 2 minutes from Geneva, Florida). (ADDED: February 17, 2021, JBS)
Magic 107.7 Easter Egg Hunt - Easter egg hunt, Breakfast with the bunny
Reiter Park, 200 West Warren Ave, Longwood, FL 32750. Phone: 407-324-0203. Email:

[email protected]

. Event date and time: usually held the day before Easter, on Saturday from 9:30am to 12:00pm. City of Longwood will assist with parking. Bunny Breakfast Information: Hop over to the Longwood Community Building for breakfast with the Easter Bunny. Enjoy all you can eat pancakes, along with 2 sausage patties, juice, coffee, milk and water. Breakfast will be served between 8:30-10:30 with seatings taking place every 30 minutes. Bring a camera with you for pictures with the Easter Bunny. 19 years ago the Magic 107.7 Easter Egg Hunt was started as the Lake Mary Easter Egg Hunt and has grown from an attendance of only a few hundred people to over 10,000 in 2014. It is free, but, please bring a donation of one or more of the items listed on their webpage with you to help homeless families. There are more than 18,000 eggs to hunt. 20 Booths that are completely free of charge. Bring your camera for pictures with the Easter Bunny. Easter Basket Competitions - Make or decorate an Easter Basket and bring it with you. After your hunt, drop by the Judging Tent for our judges to admire your creation. Awards will be presented at Noon, at the stage area. And so much more, The best part is there is no cost to participate in the hunts, basket competitions, booths or parking. Concessions will be sold to satisfy your appetite. Longwood Magic 107.7 Easter Egg Hunt - Easter egg hunt. Parking: City of Longwood will assist with parking. )
A visitor writes on April 05, 2011: "I went to this event for the first time last year and loved it! It had a lot of activities for the kids to include a train, bounce house, games, and the Easter bunny!"
Oviedo City Helicopter Marshmallow Drop - Marshmallow egg drop, inflatables,
Oviedo Sports Complex, 1251 E Broadway Street, Oviedo, FL 32765. Event date and time: Based on the 2019 date (it wasn't held in 2020), it SHOULD be held on Saturday, April 3, 2021 (but be sure to check on their website or call them first as we cannot find an update for this year yet), at 10 am sharp. the City's Annual Marshmallow Drop. The first drop starts promptly at 10am, so arrive early for parking. All children require wristbands. Parents, guardians, and grand parents will not be allowed on the field except age group 5-6. Specific instructions will be given. Children (ages 5 to 10) will collect marshmallows dropped from a helicopter to redeem for goodies. The kiddos will also enjoy bounce houses and other activities beginning at 9:30am. Refreshments will be available for purchase. Children (ages 0-4) will enjoy bounce houses, photo ops with the Easter Bunny, and receive a free bag to fill with goodies from the vendor tents only. There will not be an egg hunt or marshmallow drop for this age bracket. Tickets go on sale Monday, April 8th, at Riverside Park and the Gymnasium. Pre-sale discounted tickets are $3 each through Tuesday, April 16th. Tickets are $5 each on the day of the event (cash only).
For more information, see the menu bar at the top of the page: Resources and Related Websites
Easter Egg Hunt, Parade and Event Listings