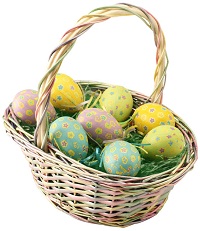 Looking for a local Easter egg hunt for your children? Or an Easter parade, Easter brunch or breakfast or other Easter events in central eastern Iowa - Cedar Rapids, Davenport, Iowa City, etc.? Scroll down this page and you will see all of those in central eastern Iowa - Cedar Rapids, Davenport, Iowa City, etc., sorted by county. ALWAYS either see their website or call before you go to confirm the info, there are often last minute changes which they do not report to us! If you have missed the Easter egg hunts in your area (or they were canceled), see this page about how to easily have your own backyard or local park Easter egg hunt.
If you know of one we missed and want to add it or correct the information, please let me know! There are affiliate links on this page. Read our disclosure policy to learn more.
Updates for December 2023
Easter egg hunts are back! I'm updating the info every day. Unfortunately MOST wait until the last minute (often just a few days before) to publish their dates, times and details. I'm updating their information daily as it comes in., but there are thousands yet to check. When we CONFIRM an event for 2023, the date will be highlighted in pink, like this passage to make them easy to find as you scroll down the page. Orange highlights means it was definitely held last year, but we have not yet been able to confirm it for this year.
RELATED: You may also want to go to a local farm to Pick Your Own fruit and vegetables; strawberries start very soon in most areas! Farms will be open, and it's quite safe out in a field, where people are not close to each other!
And if you are looking to save money on children's clothes, toys, books, etc, find a local children's consignment sale, also often held by churches in the Spring and Fall, click here!
ALWAYS click the links to check date and time with the event's own website, as there are often last minute cancellations, postponements or changes to locations due to weather (like heavy rains) or logistical problems, just click on the link to the event's website and (in most cases), you want to click on the "events" link or "calendar" link on their website. Or use their site search for "Easter". Do let them know you found them here, so they will update us next year. Since many egg hunts do not publish the current year's dates until the very last minute, or simply never respond to email, we may not get their current information, which is why we have links to their websites, Facebook pages and calendars. Besides egg hunts, there are also Easter breakfasts and brunches and Easter parades to watch!
If you need to add your egg hunt or update your existing information, click on these links.
Easter Egg Hunt, Parade and Event Listings
Click on Resources above, if you need a county map
Benton County
Black Hawk County
Oakridge Realtors Easter Eggstravaganza - Easter egg hunt
UNI-Dome, 2501 Hudson Road, Cedar Falls, IA 50614. Event date and time: When we checked last, there was no update for 2023 yet on their website - so CHECK IT AGAIN YOURSELF, it may or may not be held in 2023, if they DO hold it, based on past years, it would likely be on Saturday, April 8, 2023, at 10 am. Bigger and better than ever! Oakridge Realtors, University of Iowa Community Credit Union and Scheels are proud to present the 5th annual Easter Eggstravaganza at the UNI Dome in Cedar Falls! We all invite you to spend a fun-filled morning inside the UNI Dome for the best Easter Eggstravaganza around. Join us for games, face painting, balloon animals, bounce houses, refreshments, pictures with the Easter Bunny and the Easter egg hunt with over 30,000 eggs! All the festivities begin at 10 AM with the Easter egg hunt starting at 10:30 AM. Come join in the fun for all ages! Feel free to share this with friends and family and we can't wait to see you there!
Please RSVP with this free ticket link!

Buchanan County
CedarCounty
Clayton County
Clinton County
Delaware County
Dubuque County
Iowa County
Jackson County
Johnson County
Jones County
Linn County
Muscatine County
Muscatine Parks and Recreation Easter Egg Hunt - Easter egg hunt
Weed Park Upper Loop, 1 Park Dr, Muscatine, IA 52761. Phone: (563) 263-0241. Event date and time:

Saturday, April 1, 2023 from 10 am to 11:45 am, weather permitting

. Children will be split into three age groups to hunt for eggs and collect prizes including three years and under, four years through kindergarten, and first through third graders. Family members and groups of all ages will have the opportunity to follow clues around the park in a Group Scavenger Hunt. This is a FREE event. Meet at
the Rose Garden Playground for the Easter
Egg Hunt and Scavenger Hunt.
10:00 am - 3 years and under
10:15 am - 4 years - Kindergarten
10:30 am - 1st - 3rd grades
10:45 am - Family/Group Scavenger Hunt.
(UPDATED: March 28, 2023, JBS)
Scott County
Bettendorf and Hope Church - Easter Egg Hunt, food, bounce houses, Easter Bunny visit
Bettendorf High School., Bettendorf, IA. Phone: (563)355-2249. Email: info@myhopechurch.com. Event date and time:

Saturday, April 8, 2023 from 10 am to 12 pm

. Over 18,000 eggs to hunt, temporary tattoos and more. (ADDED: March 28, 2023, JBS)
Davenport Community Wide Egg Hunt - Easter egg hunt
Vander Veer Botanical Park, 215 W Central Park Ave, Davenport, IA 52803. Phone: (563) 326-7711. Email: contactus@davenportiowa.com. Event date and time:

Saturday, April 8, 2023 from 11 am

. Hop on over to the grassy area located behind Gabe's All-Inclusive Play Village to collect as many eggs as possible and receive prizes. Remember to bring your own basket or bag to collect the eggs.
Age groups will be separated and include:
11:00 a.m. | 3 years & under
11:15 a.m. | 4-7 years and 8-10 years
While you're there, enter in a raffle for your chance to win a Summer Kids Pass, valued at $50.00. (ADDED: March 28, 2023, JBS)
PUNCH Easter Egg Hunt - Easter Egg Hunt
Cork Hill Park, 1100 Farnam St, Davenport, IA 52803. Phone: 563-275-2946. Email: P.U.N.C.H.Davenport@gmail.com. Event date and time: April 8, 2023 from 11 am - 1 pm. Bring the whole family for Easter Bunny, games, egg hunt, prizes, and free lunch! Hunt areas are by age groups. Make sure you register your kids and yourself for chance to win great prizes. People Uniting Neighbors and Churchs will host their annual event at Cork Hill park. Children 10 and younger will collect as many eggs as possible to receive prizes. Family games and free lunch will also be offered. (ADDED: March 28, 2023, JBS)
Bend Center East Moline - Easter Egg Hunt and Brunch Buffet at The Combine
River Bend Park, 900 Bend Blvd, East Moline, IL 61244. Phone: 309-623-4488. Email: info@thebendeventcenter.com. Event date and time: Sunday, April 9, 2023 from 9:30 am to 10 am. The brunch special is available afterward from 10 a.m. to 3 p.m. at the Combine.. (ADDED: March 28, 2023, JBS)
Muscatine Annual Easter Egg Hunt - Easter egg hunt
Weed Park, 1 Park Dr, Muscatine, IA 52761. Phone: (563)263-0241. Event date and time:

Saturday, April 1, 2023 from 10 am to 11 am

. The Easter Bunny is not fooling around this spring and has joined forces with the Muscatine Parks and Recreation Department to hide hundreds of Easter Eggs in Weed Park for the Easter Egg Hunt. The community is invited to hop on out to the Weed Park. Families attending can set their destination to the area near the Rose Garden playground in the Upper Loop of Weed Park. Children will be split into three age groups (three years and under, four years through kindergarten, and first through third graders) and hunt for their prize-filled eggs in specific locations. Participants will be asked to closely follow age categories. Children are encouraged to bring their own Easter basket. Celebrate the holiday, enjoy the start of spring weather, and gather with both family and friends in the Weed Park Upper Loop. This is a FREE event which is sure to be fun for the whole family. For more information, please contact the Muscatine Parks and Recreation Department. (ADDED: March 28, 2023, JBS)
Silvis Optimist Club - Easter Egg Hunt
Schadt Park, Silvis, IL 61282. Event date and time:

Saturday, April 1, 2023 from 12 pm

. Bring-your-own-basket The Kona Ice shaved ice truck will also be at the event offering its chilly treats.
(ADDED: March 28, 2023, JBS)

For more information, see the menu bar at the top of the page: Resources and Related Websites
Easter Egg Hunt, Parade and Event Listings