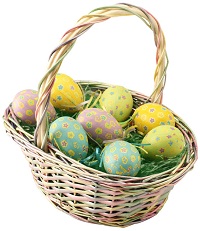 Looking for a local Easter egg hunt for your children? Or an Easter parade, Easter brunch or breakfast or other Easter events in Western Maryland? Scroll down this page and you will see all of those in Western Maryland, sorted by county. ALWAYS either see their website or call before you go to confirm the info, there are often last minute changes which they do not report to us! If you have missed the Easter egg hunts in your area (or they were canceled), see this page about how to easily have your own backyard or local park Easter egg hunt.
If you know of one we missed and want to add it or correct the information, please let me know! There are affiliate links on this page. Read our disclosure policy to learn more.
Updates for December 2023
Easter egg hunts are back! I'm updating the info every day. Unfortunately MOST wait until the last minute (often just a few days before) to publish their dates, times and details. I'm updating their information daily as it comes in., but there are thousands yet to check. When we CONFIRM an event for 2023, the date will be highlighted in pink, like this passage to make them easy to find as you scroll down the page. Orange highlights means it was definitely held last year, but we have not yet been able to confirm it for this year.
RELATED: You may also want to go to a local farm to Pick Your Own fruit and vegetables; strawberries start very soon in most areas! Farms will be open, and it's quite safe out in a field, where people are not close to each other!
And if you are looking to save money on children's clothes, toys, books, etc, find a local children's consignment sale, also often held by churches in the Spring and Fall, click here!
ALWAYS click the links to check date and time with the event's own website, as there are often last minute cancellations, postponements or changes to locations due to weather (like heavy rains) or logistical problems, just click on the link to the event's website and (in most cases), you want to click on the "events" link or "calendar" link on their website. Or use their site search for "Easter". Do let them know you found them here, so they will update us next year. Since many egg hunts do not publish the current year's dates until the very last minute, or simply never respond to email, we may not get their current information, which is why we have links to their websites, Facebook pages and calendars. Besides egg hunts, there are also Easter breakfasts and brunches and Easter parades to watch!
If you need to add your egg hunt or update your existing information, click on these links.
Easter Egg Hunt, Parade and Event Listings
Click on Resources above, if you need a county map
Allegany County
Garrett County
Washington County
Tots2Tweens Annual Egg Hunt Valley Mall - Easter egg hunts for infant, Easter egg hunts for toddlers, Easter egg hunts for children, Easter egg hunts for all ages (includes adults), The Easter bunny will make an appearance, Visits and photos with the Easter Rabbit, Tents or other provisions are made for bad weather, FREE admission, Vendors, Other activities for children, Bring a basket to collect the eggs, concessions or refreshment stand, restrooms, picnic area, inflatables or bounce house, pony rides
Valley Mall, 17301 Valley Mall Rd, Hagerstown, MD 21740. Phone: 866-957-8687. Email: info@tots2tweens.com. Event date and time: UPDATE for 2023: When we checked last, there was no update for 2023 yet on their website - so CHECK IT AGAIN YOURSELF, it may or may not be held in 2023, if they DO hold it. NOTE: In the past these events are very well-attended and we get large crowds early in the event. If you're looking for less crowds come after the first hour! The first 500 kids will get an Egg Hunt sack and a list - they will take their list to the vendors marked and get a free treat. The first 500 parents will get a Tots2Tweens parent bag to help them carry all the goodies they pick up from our vendors. How the Egg Hunts work: All kids who attend the egg hunt will be given a 4×6 card printed with a specially decorated egg. They will take their card and look among our vendors to find their match - once they do, they hand over their card to the vendor and the vendor will hand them a goody bag stuffed with candy! PRO TIP: Many of our vendors have great giveaways - bring some address labels or have a pre-printed label with your name, cell phone and email to make entering to win quick and easy!
For more information, see the menu bar at the top of the page: Resources and Related Websites
Easter Egg Hunt, Parade and Event Listings