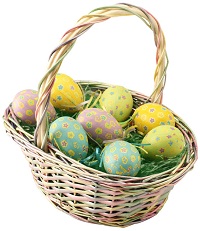 Looking for a local Easter egg hunt for your children? Or an Easter parage, Easter brunch or breakfast or other Easter events in Western North Carolina? Scroll down this page and you will see all of thoses in Western North Carolina, sorted by county. ALWAYS either see their website or call before you go to confirm the info, there are often last minute changes which they do not report to us!
If you know of one we missed and want to add it or correct the information, please let me know! There are affiliate links on this page. Read our disclosure policy to learn more. There are affiliate links on this page. Read our disclosure policy to learn more.
Updates for August 2020
Due to concerns about Coronavirus, many Easter egg hunts are being cancelled for 2020. As we get updates, we are revising them here. ALWAYS confirm directly with the sponsor (we provide links to their websites, email and phone numbers) to ensure they are still holding the event, as the situation is changing rapidly. A few are having drive-in Egg Hunts, most are simply canceling in 2020 to return in 2021, and holding an online service this year.
Easter Sunday will be April 12, 2020. Most Easter egg hunts are being held on the Saturday a week before Easter, or the day before Easter Sunday. ALWAYS click the links to check date and time with the event's own website, as there are often last minute cancellations, postponements or changes to locations due to weather (like heavy rains in the northeast) or logistical problems, just click on the link to the event's website and (in most cases), you want to click on the "events" link or "calendar" link on their website. Or use their site search for "Easter". Do let them know you found them here, so they will update us next year. Since many egg hunts do not publish the current year's dates until the very last minute, or simply never respond to email, we may not get their current information, which is why we have links to their websites, facebook pages and calendars. Besides egg hunts, there are also Easter breakfasts and brunches and Easter parades to watch!
If you need to add your egg hunt or update your existing information, click on these links.
RELATED:
You may also want to
go to a local farm to
Pick Your Own fruit and vegetables
; strawberries start very soon in most areas! Farms will be open, and it's quite safe out in a field, where people are not close to each othger!
And if you are looking for local
children's consignment sales, also often held by churches in the Spring and Fall, click here
!
Easter Egg Hunt, Parade and Event Listings
Click on Resources above, if you need a county map
Alexander County
Alleghany County
Ashe County
Blowing Rock Easter Festival and Egg Hunt - Easter egg hunt
Blowing Rock Memorial Park/Rec Center 145 Park Avenue, Blowing Rock, NC. Phone: 828-295-5222. Event date and time: Based on last year's date, it SHOULD be held on Saturday, April 4, 2020 (but be sure to check on their website or call them first as may have changed), at 10 am. All ages are welcome to bring their Easter baskets for the egg hunt—on your mark, get set, go! Other activities include games and a mini petting zoo. Of course, kids will have the chance to meet the Easter Bunny! Bring a decorated egg and enter the egg contest at 10:45am. Games and Activities: 10:00am
Mini Petting Zoe: 10:00 - 11:00am
Best Decorated Egg Contest: 10:45am
Easter Egg Hunt: 11:00am
Avery County
Burke County
Caldwell County
Lincoln County
Surry County
Watauga County
Wilkes County
Yadkin County
Alpha and Omega Corn Maze - Helicopter Easter egg drop
1129 Cheek Road, Hamptonville, NC 27020. Phone: 336-466-5402. Email:

[email protected]

. Event date and time: Based on last year's date, it SHOULD be held on Saturday, April 11, 2020 (but be sure to check on their website or call them first as may have changed), Gates open at 8 AM; The event is from 9 AM until 4 PM; There will be three drop times. 9am, 12pm & 3PM. Alpha & Omega Corn maze will host their 4th annual Helicopter Easter Egg Drop. More than 20,000 plastic eggs will fall out of the sky in what will look like a shower of Skittles. The children will move through the grass like vacuum cleaners on legs. As the crowd of children descend on areas designated for individual age groups, their movements mimick an organized stampede. This year will mark the forth year that Alpha & Omega Corn Maze has coordinated the effort as a way to reach out to the local community and provide a fun family event. Pastor Kenny Pardue with Union Baptist Church will share the Easter story of resurrection before the egg hunt begins. Our very own Thumper the Easter Bunny will join us for pictures with the children. Explore this 20-acre agritourism complex with the farm consisting of: Helicopter Egg Hunt, ( 3 drop times for your convenience ), Corn Cob Express, Corn Box, Picnic Pavilion, See Saws, Tug of War, Animal Acres, Pipe World, Bounce Pillow, custom corn shaped bounce pad, corn hole, Hayride, & lots of Photo Opportunities. We have a full snack bar of concessions serving a delicious breakfast menu including our famous bunny pancakes, sausage biscuits, ham biscuits , popcorn, soft drinks, coffee andhot chocolate. Indoor restroom facilities are on site. Customer's post they are drawn to farms like this as they search for a wholesome and unique outdoor activity for their whole family. "This type of recreation is educational for our kids, and we as parents often enjoy re-visiting our own childhood memories vicariously through this farm. And, it is a great value when you consider the recreational aspect relative to other competing attractions, such as movies and malls." Cost for the event is $8.00 online and $11.00 at the gate. Children 2 and under are free. Check out our Facebook page or our website @ alphaomegacornmaze.com for posts & updates on special events. Feel free to contact us .

For more information, see the menu bar at the top of the page: Resources and Related Websites
Easter Egg Hunt, Parade and Event Listings