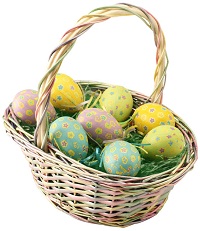 Looking for a local Easter egg hunt for your children? Or an Easter parage, Easter brunch or breakfast or other Easter events in South-central Oklahoma? Scroll down this page and you will see all of thoses in South-central Oklahoma, sorted by county. ALWAYS either see their website or call before you go to confirm the info, there are often last minute changes which they do not report to us!
If you know of one we missed and want to add it or correct the information, please let me know! There are affiliate links on this page. Read our disclosure policy to learn more. There are affiliate links on this page. Read our disclosure policy to learn more.
Updates for January 2021
Due to concerns about Coronavirus, many Easter egg hunts are being cancelled for 2020. As we get updates, we are revising them here. ALWAYS confirm directly with the sponsor (we provide links to their websites, email and phone numbers) to ensure they are still holding the event, as the situation is changing rapidly. A few are having drive-in Egg Hunts, most are simply canceling in 2020 to return in 2021, and holding an online service this year.
Easter Sunday will be April 12, 2020. Most Easter egg hunts are being held on the Saturday a week before Easter, or the day before Easter Sunday. ALWAYS click the links to check date and time with the event's own website, as there are often last minute cancellations, postponements or changes to locations due to weather (like heavy rains in the northeast) or logistical problems, just click on the link to the event's website and (in most cases), you want to click on the "events" link or "calendar" link on their website. Or use their site search for "Easter". Do let them know you found them here, so they will update us next year. Since many egg hunts do not publish the current year's dates until the very last minute, or simply never respond to email, we may not get their current information, which is why we have links to their websites, facebook pages and calendars. Besides egg hunts, there are also Easter breakfasts and brunches and Easter parades to watch!
If you need to add your egg hunt or update your existing information, click on these links.
RELATED:
You may also want to
go to a local farm to
Pick Your Own fruit and vegetables
; strawberries start very soon in most areas! Farms will be open, and it's quite safe out in a field, where people are not close to each othger!
And if you are looking for local
children's consignment sales, also often held by churches in the Spring and Fall, click here
!
Easter Egg Hunt, Parade and Event Listings
Click on Resources above, if you need a county map
Carter County
Ardmore Easter Eggstravaganza - Easter egg hunt
Ardmore Regional Park, 2704 N. Rockford Rd, Ardmore, OK 73401. Phone: (580) 223-4844. Event date and time: Thursday, April 9, 2020 from 6:30 pm - 9:30 pm. Join us for our 14th annual celebration! It is guaranteed to be a fun experience for the whole family! Come see the Easter Bunny, play games, jump on inflatables, and hunt Easter eggs with your flashlight! Remember the egg hunts do not begin until sunset. See you there!
Easter Egg Hunt Age Groups:
3-4 years
5-6 years
7-8 years
9-10 years

For more information, please call
Coal County
Garvin County
Grady County
Jefferson County
Johnston County
Johnston County Easter Egg Scramble - Easter egg hunt
Tishomingo High School Football Field, 1300 E Main St, Tishomingo, OK 73460. Event date and time: Saturday, April 4, 2020 from 10:00 am - 1:00 pm. Join us in Tishomingo for the 23rd Annual Johnston County Easter Egg Scramble! There will be 10,000 eggs filled with candy and prizes with five different age groups. Come explore ambulances, fire trucks, police cars, tow trucks and a medical helicopter!
Activities begin at 10:00 AM followed by the Egg Scramble at 12:00 PM. *If inclement weather occurs, the egg scramble will move to the Johnston County Fairbarn located south of Murray State College.
Love County
Marshall County
McClain County
Newcastle Easter Egg Hunt - Easter egg hunt
Veterans Park, Near Newcastle Elementary School, Newcastle, OK 73065. Phone: 405-387-4427. Event date and time: Based on last year's date, it SHOULD be held on Saturday, April 11, 2020 (but be sure to check on their website or call them first as may have changed) at 2 PM CDT. The City of Newcastle is hosting their annual Easter Egg Hunt! Come Easter eggs at Veterans Park. The Easter Egg Hunt is open to all ages and the event will also have a special guest... the Easter Bunny! Bring the family out and don't miss this exciting Easter event! Join us for an amzing time! Over 25,000 candy and toy filled Easter Eggs, Games, Hot Dogs, Boon Bounces and More!!!

Murray County
Davis Easter Egg Hunt - Easter egg hunt
Fullerton Park, East Benton Ave at North 7th Street, Davis, OK 73030. Phone: (580) 369 2402.. Event date and time: April 12, 2020 from 2:00 pm - 3:00 pm. Make your way to Fullerton Park in Davis for the annual Easter Egg Hunt! Make sure to arrive early to get your picture taken with the Easter Bunny! The eggs at Fullerton Park have more than just candy inside, some eggs will have money and there will be special prize eggs. Bring your baskets and get ready to hunt!
For more information, please contact the Davis Chamber of Commerce.
Pontotoc County
Stephens County
For more information, see the menu bar at the top of the page: Resources and Related Websites
Easter Egg Hunt, Parade and Event Listings