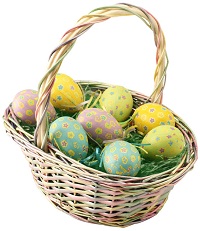 Looking for a local Easter egg hunt for your children? Or an Easter parade, Easter brunch or breakfast or other Easter events in Ottawa, Ontario? Scroll down this page and you will see all of those in Ottawa, Ontario, sorted by county. ALWAYS either see their website or call before you go to confirm the info, there are often last minute changes which they do not report to us! If you have missed the Easter egg hunts in your area (or they were canceled), see this page about how to easily have your own backyard or local park Easter egg hunt.
If you know of one we missed and want to add it or correct the information, please let me know! There are affiliate links on this page. Read our disclosure policy to learn more.
Updates for September 2021
It looks like egg hunts will be returning in 2021! Unfortunately MANY are waiting until literally the last minute to publish their plans and details. We're updating their information daily as it comes in. Those we KNOW are having an event in 2021 are highlighted in yellow, like this passage to make them easy to find as you scroll down the page.
If you have missed the Easter egg hunts in your area (or they were canceled), see this page about how to easily have your own backyard or local park Easter egg hunt.
RELATED: You may also want to go to a local farm to Pick Your Own fruit and vegetables; strawberries start very soon in most areas! Farms will be open, and it's quite safe out in a field, where people are not close to each othger!
And if you are looking for local children's consignment sales, also often held by churches in the Spring and Fall, click here!
ALWAYS click the links to check date and time with the event's own website, as there are often last minute cancellations, postponements or changes to locations due to weather (like heavy rains) or logistical problems, just click on the link to the event's website and (in most cases), you want to click on the "events" link or "calendar" link on their website. Or use their site search for "Easter". Do let them know you found them here, so they will update us next year. Since many egg hunts do not publish the current year's dates until the very last minute, or simply never respond to email, we may not get their current information, which is why we have links to their websites, Facebook pages and calendars. Besides egg hunts, there are also Easter breakfasts and brunches and Easter parades to watch!
If you need to add your egg hunt or update your existing information, click on these links.
Easter Egg Hunt, Parade and Event Listings
Click on Resources above, if you need a county map
Ottawa (Metro Ottawa)
Ottawa (South Ottawa)
Valleyview Easter Egg Hunt - Easter egg hunt
Valleyview Little Animal Farm, 4750 Fallowfield Road, Nepean, ON K2J 4S4. Email: info@valleyviewlittleanimalfarm.com. Event date and time: Easter Weekend (April), four days of hunting from 9:30 am to 4:00 pm. Our Farm Easter Bunny has lost 100's of coloured eggs, he needs your help to find them. The Egg Hunt runs daily throughout the Easter Week-end.
Ottawa (West Ottawa)
Easter on the Farm - farm animals
(861) Prince of Wales Drive, Ottawa, ON. Phone: 613-991-3044. Email: cts@technomuses.ca. Directions: between the traffic circle and Baseline Rd. Discover what lambs, rabbits and chicks look like up close; how lambs, rabbits and chicks are cared for and why they are raised on farms; numerous facts about eggs; about a variety of traditional Easter breads. Come celebrate spring's arrival at the Canada Agriculture Museum this Easter weekend! After a long winter, the barns have come alive with the arrival of new-born animals. Come welcome the soft little lambs, marvel at the rabbits' silky fur and observe the fluffy newly-hatched chicks from up close. Visitors can help make a variety of Easter breads and taste a delicious sample. What's more, the annual egg hunt is on again - children 6 years-old and younger can participate in the hunt for tots while older children can take on the challenge of hunting for the "signs of spring" throughout the barns. Admission $9, $7 seniors/students, $6 ages 3 to 12, free under age 3, $23 family rate (2 adults, 3 children). At the Canada Agriculture Museum.
For more information, see the menu bar at the top of the page: Resources and Related Websites
Easter Egg Hunt, Parade and Event Listings