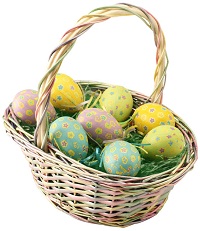 Looking for a local Easter egg hunt for your children? Or an Easter parage, Easter brunch or breakfast or other Easter events in Sussex, England? Scroll down this page and you will see all of thoses in Sussex, England, sorted by county. ALWAYS either see their website or call before you go to confirm the info, there are often last minute changes which they do not report to us!
If you know of one we missed and want to add it or correct the information, please let me know! There are affiliate links on this page. Read our disclosure policy to learn more. There are affiliate links on this page. Read our disclosure policy to learn more.
Updates for January 2021
Due to concerns about Coronavirus, many Easter egg hunts are being cancelled for 2020. As we get updates, we are revising them here. ALWAYS confirm directly with the sponsor (we provide links to their websites, email and phone numbers) to ensure they are still holding the event, as the situation is changing rapidly. A few are having drive-in Egg Hunts, most are simply canceling in 2020 to return in 2021, and holding an online service this year.
Easter Sunday will be April 12, 2020. Most Easter egg hunts are being held on the Saturday a week before Easter, or the day before Easter Sunday. ALWAYS click the links to check date and time with the event's own website, as there are often last minute cancellations, postponements or changes to locations due to weather (like heavy rains in the northeast) or logistical problems, just click on the link to the event's website and (in most cases), you want to click on the "events" link or "calendar" link on their website. Or use their site search for "Easter". Do let them know you found them here, so they will update us next year. Since many egg hunts do not publish the current year's dates until the very last minute, or simply never respond to email, we may not get their current information, which is why we have links to their websites, facebook pages and calendars. Besides egg hunts, there are also Easter breakfasts and brunches and Easter parades to watch!
If you need to add your egg hunt or update your existing information, click on these links.
RELATED:
You may also want to
go to a local farm to
Pick Your Own fruit and vegetables
; strawberries start very soon in most areas! Farms will be open, and it's quite safe out in a field, where people are not close to each othger!
And if you are looking for local
children's consignment sales, also often held by churches in the Spring and Fall, click here
!
Easter Egg Hunt, Parade and Event Listings
Click on Resources above, if you need a county map
East Sussex
Preston Park Easter Egg Hunt and Rock Painting - Easter egg hunt
Preston Park, Brighton, BN1 6SD.Phone: 0792 0003391 . Email:

[email protected]

. Event date and time: Easter Sunday, 12 April 2020, from 10.30 am to 2.30 pm. Design and paint a rock with a litter related message and win a prize in this Easter Egg Hunt and competition organised by the council's rangers and Friends of Preston Park. The traditional Friends of Preston Park - BN1 Easter Egg Hunt will include a prize competition organised by Brighton & Hove Rangers for the best litter related painted rock, and the best non-litter related rock design. You may also want to do a bit of litter picking in the park and tools and equipment will be available. This is one of the cities biggest Easter events for the last 8 years with hundreds of families coming out to participate in the quiz trail that once completed they receive an Easter egg. The hunt is fun, informative, and a great way to burn off a few calories while finding more out about this fantastic park. (UPDATED: March 10, 2020)
Hastings and St Leonards Bunny Hop -
St Leonards Showground, Magdalen Road, St. Leonards, TN37 6EG. Email:

[email protected]

. Event date and time:Last year's event was cancelled, and we are trying to find out if they are holding it this year.
St Michael's Hospice Easter Bunny Hop - Easter egg hunt
St Michael's Hospice, Upper Maze Hill, St Leonards on Sea, TN38 0LB. Phone: 01424 456396. Email:

[email protected]

. Event date and time: Sunday, 07 April, 2019 at 10:00 am to 12 pm. Come along and enjoy the Easter fun with the St Michael's Hospice Easter event! Follow the Bunny Trail round the grounds, collect the carrot tokens and exchange them for a delicious chocolate egg*! Search for the hidden rabbit hole in the wood and discover the bunny's address for a chance to win a prize. Name the bear competition and win a beautiful toy bear.
Crafts, Toy stall and refreshments, Eggs kindly donated by Morrisons! Follow the trail and find a delicious chocolate Easter egg at the end! *limited number of eggs.
West Sussex
Borde Hill Garden Easter Sporting Bunny Trail - Easter egg trail
Borde Hill Garden Ltd, Haywards Heath, RH16 1XP. Phone: 01444-450326. Email:

[email protected]

. Event date and time: 6 April 2019 to 22 April 2019 all-day. COST: £2 per trail, plus admission to include a prize. FREE to FriendsSee their website for this year's date. Fun trial to find each bunny with an Olympic theme and get a chocolate egg reward. Directions: By Road: Borde Hill is 1½ miles north of Haywards Heath, 20 minutes North of Brighton, or South of Gatwick on the A23 taking exit 10a via Balcombe and Cuckfield. Use Google Maps to plan your car journey. By Rail: Direct trains from London Bridge or Victoria to Haywards Heath (45 mins). Taxis at stationBorde Hill Garden, Haywards Heath, West Sussex The Easter Bunny Trail will once again be taking place within this beautiful setting throughout the Easter holidays and is perfect for children aged 3 - 11 years. Meanwhile, mums and dads can admire the flowering camellias and magnolias.
For more information, see the menu bar at the top of the page: Resources and Related Websites
Easter Egg Hunt, Parade and Event Listings