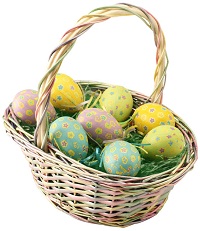 Looking for a local Easter egg hunt for your children? Or an Easter parage, Easter brunch or breakfast or other Easter events in West Midlands, England? Scroll down this page and you will see all of thoses in West Midlands, England, sorted by county. ALWAYS either see their website or call before you go to confirm the info, there are often last minute changes which they do not report to us!
If you know of one we missed and want to add it or correct the information, please let me know! There are affiliate links on this page. Read our disclosure policy to learn more. There are affiliate links on this page. Read our disclosure policy to learn more.
Updates for January 2021
Due to concerns about Coronavirus, many Easter egg hunts are being cancelled for 2020. As we get updates, we are revising them here. ALWAYS confirm directly with the sponsor (we provide links to their websites, email and phone numbers) to ensure they are still holding the event, as the situation is changing rapidly. A few are having drive-in Egg Hunts, most are simply canceling in 2020 to return in 2021, and holding an online service this year.
Easter Sunday will be April 12, 2020. Most Easter egg hunts are being held on the Saturday a week before Easter, or the day before Easter Sunday. ALWAYS click the links to check date and time with the event's own website, as there are often last minute cancellations, postponements or changes to locations due to weather (like heavy rains in the northeast) or logistical problems, just click on the link to the event's website and (in most cases), you want to click on the "events" link or "calendar" link on their website. Or use their site search for "Easter". Do let them know you found them here, so they will update us next year. Since many egg hunts do not publish the current year's dates until the very last minute, or simply never respond to email, we may not get their current information, which is why we have links to their websites, facebook pages and calendars. Besides egg hunts, there are also Easter breakfasts and brunches and Easter parades to watch!
If you need to add your egg hunt or update your existing information, click on these links.
RELATED:
You may also want to
go to a local farm to
Pick Your Own fruit and vegetables
; strawberries start very soon in most areas! Farms will be open, and it's quite safe out in a field, where people are not close to each othger!
And if you are looking for local
children's consignment sales, also often held by churches in the Spring and Fall, click here
!
Easter Egg Hunt, Parade and Event Listings
Click on Resources above, if you need a county map
Herefordshire
Croft Castle Cadbury Easter Egg Hunt - Cadbury Easter egg hunt
Yarpole, near Leominster, HR6 9PW. Phone: 01568 780246. Email:

[email protected]

. Event date and time: from Good Friday through Easter Monday Get outdoors, spot the spring flowers and follow the clues on our Cadbury Easter Egg Hunt to claim your delicious chocolate prize at the end. Once again the Cadbury Bunny has hidden precious Choccy eggs across Britain. Now it's up to you and your family to find them by joining the Cadbury Easter Egg Hunt!
Eastnor Castle Eggs-Plorers Easter Treasure Hunt - Easter events
Eastnor Castle , Ledbury, HR8 1RL. Phone: 01531 633160. Email:

[email protected]

. Event date and time: Good Friday through Easter Monday from 10:30 am to 5:30 pm. Calling all mini-EGGsplorers to come along and test your skills with our legendary Easter Treasure Hunt around the castle and grounds. Chocolate MaltEaster bunny for everyone who takes part and a chance to win an enormous Easter Egg! Castle & Grounds Admission Adult: £12.50 | Child (3-15 yrs): £7.75 | Family (2+3): £33.00 (Discounted tickets available online).
Goodrich Castle - Easter quest
Castle Lane, Goodrich, Ross on Wye, HR9 6HY. Phone: 01600 890538. Event date and time:4 April 2020 through a week after Easter. Join the hunt for dragon eggs on a legendary quest this Easter holiday. Crack the clues as you and your family follow the trail around Goodrich Castle. Intrepid adventurers who track down the dragon egg will get a certificate to prove it, and there'll be a chocolate treat too! You can get questing at Goodrich Castle every day of the school holidays. It costs just £1 per child, and there's no need to book.
Shropshire
Easter Bunny at Telford Steam Railway - Easter train ride
Telford Steam Railway, Bridge Road, Horsehay, Telford, TF4 3UH. Phone: 07816762790. Event date and time: NOTE - they appear to be closed for a while, at least since the first of the year (2020) - no word as to when they may reopen; Easter weekend, See their website for this year's times and dates. This Easter why not join the family fun day at Telford Steam Railway. Our Easter Eggstravaganza is a great family day out with lots of excitement for young and old. This year we invite you to join us to ride our train whilst on the lookout for clues which will help you find a winning prize (may contain chocolate). We also have so much more! Children go FREE: Yes that is correct! All Children get to ride our train and take part in the egg hunt completely free! Just be sure to bring a few extra pounds so that they can bounce around in our bouncy castle and become a Tiger with our Face painting! Adults are just £7 each.
Easter at Apley Farm Shop - Easter egg hunt
Apley Farm Shop, Stockton Farm Buildings, Norton, Shifnal, TF11 9EF. Email:

[email protected]

. Phone: 01953 730345. Event date and time: It may have been discontinued, I no longer see it in their events list.
Spring Event at Maws Craft Centre - Easter egg hunt, farm animals, egg decorating
Maws Craft Centre, Jackfield, Telford, TF8 7LS. Phone: 01952 883030. Email:

[email protected]

. Event date and time: See their website for this year's date. Fun for all the family including: Meet the lambs, chickens, and birds. Good old fashioned donkey rides, face painting, decorate an egg. There will be games for the children including: Guess the name of the Bear, Guess the weight of Louie the tame rabbit, Treasure Hunt, Egg Hunt, much more. Home produced food and local ales. Shops open all day everyone welcome. Admission and Parking: FREE. 12:00pm to 4:00pm. ADMISSION FREE.
Staffordshire
Drayton Manor Park Eggs-Ellent Easter - Easter Event
Drayton Manor, Drayton Manor Drive, Tamworth, B78 3TW. Phone: +44 844 472 1950. Email:

[email protected]

. Event date and time: 4 April 2020 through a week after Easter. Create fun family memories all holiday this EasteFrom enjoying over 100 rides and attractions and joining our Easter Egg trails across the park, to experiencing live shows throughout the day with Thomas and Friends, you are bound to have an EGGS-traordinarily good time. Easter Egg Trail - Follow the clues to our eggs, once you've discovered it make sure you write down the letter. You're looking for 11 letters to complete our phrase.
Polperro Easter Egg Hunt - Join us for our egg-citing Easter egg count. After you board the Polperro Express, see if you can spot all the eggs-ellent Easter eggs that are around the track. Count each one and mark them on your train track, then total them up.
To take part in these trails, please pick up an 'Eggs-tra Events' leaflet from either guest services or main entrance. Once you have completed these activities, please head to Guest Services for your free treat - subject to availability.
Thomas & the Easter Bunny - Located in Thomas Land above Knapford Station at 12pm, 2pm and 4pm
Rory the Lion & Easter Bunny Meet and Greets - Located on the Imagination Stage at 1pm & 3pm
Come and meet Thomas & Friends on the Island of Sodor. Thomas and many of his friends including James, Percy, Rosie, Flynn and Toby are waiting to welcome you into Thomas Land to discover fantastic attractions. From James & the Red Balloon and Jeremy Jet's Flying Academy to Troublesome Trucks Runaway Coaster and Cranky's Drop Tower.
Never fear all you thrill seekers though, you get free range of the park to fly through the air full throttle on our stand-up rollercoaster Shockwave or take a heart-stopping drop from the sky in Apocalypse our 54m drop tower, not to mention having the flight of your life on Air Race plus much more.
Warwickshire
Lower Clopton Farm Shop - Easter egg hunts for children, Easter egg hunts for infant, Easter egg hunts for toddlers, Easter egg hunts for all ages (includes adults), Easter egg trail, FREE admission, Turkeys
Lower Clopton Farm Upper Quinton, Stratford Upon Avon, CV37 8LQ. Phone: 01386438236. Email:

[email protected]

. Event date and time: Tuesday to Friday 9am till 4pm, Saturday 8;30am till 3;30pm. Directions: Click here for a map and directions. Payment: Cash, Debit cards, Visa or MasterCard. Click here for our Facebook page. (ADDED: February 15, 2019)
Upton House and Gardens Easter Egg Hunt - Easter egg hunt
near Banbury, OX15 6HT. Phone: 01295 670266. Email:

[email protected]

. Event date and time: See their website for this year's dates; Good Friday, 10 April 2020 and other dates, from 10:30 am to 3:30 pm. Directions: OS Grid Ref: 151:SP371461. Easter Egg Trails with Ricky Rabbit. Easter family fun! Help Ricky Rabbit find the clues and win a chocolate prize!Normal admission charges apply. Cadbury Easter egg hunt from 19-22 April 2019.
Warwick Castle - Easter Events
Warwick Castle, Warwick, CV34 4QU. Phone: 01926 495 421. Email:

[email protected]

. Event date and time: 4 April 2020 through a week after Easter from 10am to 5pm. The BRAND NEW trail launching Easter 2020 will teach all budding Dragons in training the skills they need to become a fully fledged Dragon. Learn to fly, roar, capture a princess and even learn to fight with Sir Gadabout, a real life Knight! Explore the trail around the castle, where the much loved book by Julia Donaldson and Axel Scheffler will be brought to life, meeting Sir Gadabout and a special meet and greet with the keenest dragon of them all… Zog! Complete all the activities and earn your very own golden star reward at this unmissable event this spring, all within the epic setting of a real medieval castle. This is included in the price of your entry ticket. For All ages.
Worcestershire
Mary Stevens Hospice - Easter Egg Hunt and Coffee Morning
221 Hagley Road, Stourbridge, DY8 2JR. Phone: 01384 443 010. Email: Email:

[email protected]

. Event date and time: I don't see anything on their website for this year, check on their website or call them first as may have changed). Join us for Stourbridge's BIGGEST Easter Egg Hunt…with a bit of a twist! Armies of children will take to the Hospice field to complete our Easter Egg Hunt course, completing Easter challenges and obstacles, following clues and answering questions to earn plastic eggs to be traded for a special goody bag at the end of the course! We will have two separate courses, one for children aged 3 & under and one for children aged 4+ and every single child will go away with something to take home for Easter. Alongside the organised chaos of the Egg Hunt, we will also be hosting our annual coffee morning, giving you the chance to pop your feet up and have a well-earned coffee with a bit of cake. It might also be the first chance you've had to pop up and see our new Day Services building and we'd absolutely love to give you a bit of an informal tour of our new digs. We're very fond of them!
For more information, see the menu bar at the top of the page: Resources and Related Websites
Easter Egg Hunt, Parade and Event Listings